Q. Hi Aaron,
I am on a very tight budget and therefore, do not have a lot of money to buy a triathlon bike. I have an aluminum frame Cannondale road bike that was given to me by some very generous friends, but it is too big for me. I still manage to ride it for 10-20 mile bike rides, but I know that the fit is not right. I have to stand on my toes when over the top tube and I have the seat post as far down as it will go. What type of adjustments can I make to give me a better fit until I have saved up enough to get a properly fitted bike for me?
─Jonathan
A. Jonathan,
You can swap a few components to effectively shrink the fit of a bike until you get one that fits properly. You can buy a shorter stem, aerobars that can be pulled back toward you such as the Bontrager Race Lite Aero Clip-on, or a forward seatpost such as the Profile Design Fast Forward. These components can reduce the reach from the saddle to the handlebars but, unfortunately, there is nothing you can do to shrink the frame so you don't have to stand on your toes at a stoplight. Your case sounds so extreme that you will have a tough time getting comfortable, no matter the changes your make to your components. It sounds like you really need a smaller frame. I wish I had a cheaper solution for you.
Good luck this season,
─Aaron
Q. Hi Aaron,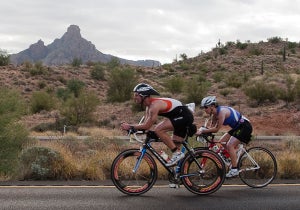 I just put some after-market aerobars on my road bike. The first time I tried to ride in the aero position I felt completely off balance and almost fell over. What is the best way to get used to this position so I can utilize it during a race?
Thanks so much,
─Kathryn
A. Kathryn,
Riding in aerobars puts extra weight on the front wheel. Road bikes are designed to handle well when the rider's weight is evenly distributed between both wheels, but aerobars put a wrench in that assumption. In addition to putting the rider in a more aerodynamic position, triathlon bikes are designed to allow the bike to handle more predictably (slower) with a lot of weight on the front wheel. The two best things you can do to improve the stability of your road bike when riding in the aerobars is to raise the arm pads or shorten the aerobar extensions. Both of these adjustments take some weight off the front wheel and will help the bike handle a little better. It may sound simple, but make sure your cables aren't wrapped around the aerobars. Also, logging more miles on the bike will help you get comfortable with its new handling characteristics. Make sure to ride on roads with a wide shoulder so you are safe when learning to control the new bike.
─Aaron