The inaugural Ironman 70.3 San Juan is set to take place tomorrow and whether it's beach sun and fun, mountains and rivers, historic sightseeing, amazing food or triathlon training, Puerto Rico is a great place to pair a race and a vacation.
Written by: Dean Warhaft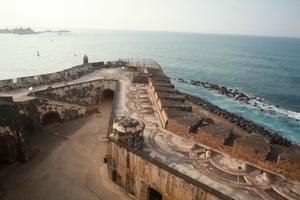 The Puerto Rican culture can best be described as vibrant—within a few hours of being here you'll find that the people have an energy that exudes happiness and an infectious joy. But then you'd be in a festive mood, too, if you were surrounded by such diverse geographical beauty.
The Caribbean island is nearly 400 miles around, and there is no lack of beaches. Getting in the warm Caribbean Sea for a dip is about as easy as walking out the door of your hotel. Some of the best surf in the entire Caribbean is on the northwest shore, just north of Mayagüez at Rincón. No matter the time of year, if you are looking for a great ocean swim workout, open-water swims usually take place on Thursdays between 6 a.m. and 7 a.m. at the beach or cove adjacent to the Conrad San Juan Resort in the Condado borough.
If getting out to the mountains sounds more appealing, El Yunque National Forest is the only tropical rainforest in the U.S. National Forest System. What makes it so unique are its year-round tropical climate and biodiversity. Another way to see the mountains is on the bike. The most common mountain route starting in San Juan heads to the municipality of Cidra, passing along the municipalities of Guaynabo, Bayamon and Aguas Buenas. This route is mostly concentrated in the central mountain region and covers 35 to 45 miles.
Old San Juan, highlighted by Fort San Felipe del Morro, is teeming with history. Built in the 16th century, this fort was so strong it survived attacks from the likes of Sir Francis Drake before the U.S. finally conquered the Spaniards in 1898. While "el Morro" was built to protect Old San Juan from ships, Fort San Cristóbal was designed to protect against land-based attacks. La Fortaleza, built between 1533 and 1540 to defend the harbor of San Juan, is now the residence of the governor. All these landmarks can be seen while running, according to Jay Gurerra of Team Iron Isla, the biggest triathlon group on the island. Bar none, the best route to run in the vicinity of San Juan is from Ocean Park to Old San Juan and up to the San Felipe del Morro fortress. This course is approximately 12 miles and many of the Iron Isla members run at least part of the course on Saturdays.
Average winter temperatures in the low 70s make Puerto Rico a prime destination for that winter escape without a passport. Temperatures tend to rise significantly in the summer months, and the threat of hurricane season makes July through October a little less opportune.
Puerto Rico Shout-Outs
If you seek…
A taste of authentic Puerto Rico
Cafe El Punto offers the best meals at very reasonable prices in the heart of the old city. Its habichuelas or red beans have a distinct flavor that comes from stewing them in cilantro, and the skirt steak with habechulas, rice and tostones is out of this world. 105 Fortaleza Street, San Juan

Fine culinary fare
Pikayo in Conrad Condado Plaza is home to the creations of Wilo Benet, arguably the most famous chef in Puerto Rico. Wilobenet.com
A local brew
A local family, the Diazes, had a dream to create artisan beers in Puerto Rico. Thankfully they chose old San Juan to produce German-style pale ales, pilsners, hefewiezens and IPAs, among others. 202 Cll Jesus Tizol, San Juan. Oldharborbrewery.com
Tech help
The Bike Stop on Avenida Andalucía has everything a gear junky could ask for. Bikestop-pr.com
The island's best view
The southwest corner of the island is home to one of Puerto Rico's nine lighthouses. Built in 1881 by the Spanish over limestone cliffs that rise 200 feet above sea level, it's called Los Morrillos, although locals call it simply "el faro," the lighthouse.