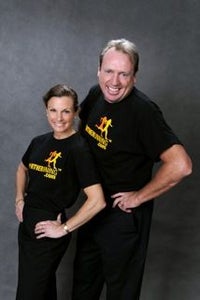 The couple who runs together, stays together…right? Sometimes it doesn't magically work to train with your mate. Take some love-on-the-run advice from the official "Couple on the Run," Sue and Andrew O'Brien. They've run nearly 100 marathons—together—including a 2008 stint of eight marathons in eight countries in eight weeks. "We find running to be a form of meditation. Think about how good that is alone then multiply it many times over and that is what we experience running together."
If your partner is a non-runner…
• Start slow, using the walk/run method until he or she develops confidence.
• Consider starting with other forms of exercise first, like a gym session or outdoor cycling.
If your partner is a different pace…
• Sign up for the same event and design your training program around both of your schedules.
• Share the track for speed workouts. Want a bit of competition? Give the slower runner a headstart and have the faster one try to catch up.
• Start hill work at the same location and cheer each other on as you cross paths.
• Try out-and-backs. Run out (then back) for 20 minutes so you can end the workout together.
If you don't want to give up alone time…
• "Most times we talk about what matters, plan the future, solve problems, talk about writing. Some days we run in silence—alone together—but are very comfortable not having to talk."
If you simply need to make it more romantic…
• Pack a picnic, and run to a new park/river/trail location to surprise your partner with a post-run feast.
• Enter a fun run and dress as a famous couple. "Running Rock n Roll Las Vegas dressed as Elvis and Priscilla and renewing your vows may be the ultimate, but it's a lot of fun at your local 5k or 10k."
• Plan a special running trip. "In April we are off to Paris to run the marathon as a celebration of Sue's 50th birthday."