The United States' Nathan White and Great Britain's Leanda Cave took the duathlon titles at today's Desert Classic Duathlon at McDowell Mountain Regional Park, just outside of Phoenix, Ariz.
The Desert Classic Duathlon often draws a large group of professional triathletes looking to give their early-season legs a solid test, and today was no different. Despite 24 hours of straight rain in the region known as the valley of the sun, athletes lucked out and the showers stayed away for the duration of the 3.5-mile trail run, 21-mile bike and 3-mile trail run race.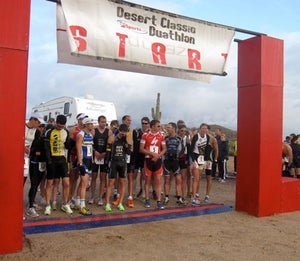 The elites took off at 8 a.m. and local pro Lewis Elliot took an early jump to the front of the pack. He carried his lead into T1, but was closely followed by fellow Americans White, Jordan Rapp and Ben Hoffman. Once on the bike, White surged to the front. The trio of Rapp, Hoffman and Elliot refused to let him get away. Eventually Rapp overtook White for the front position and he headed into T2 with a narrow lead over the chase pack. Although Rapp held his lead through much of the final three miles of the race, White was able to keep him in his sights. With less than 50 meters to go, White reeled Rapp in and it was apparent the race would come down to a sprint finish. White used his Olympic-distance speed to outrun Rapp, taking his first win at the Desert Du in 1:26:35. Rapp finished three seconds later, with Elliot rounding out the podium.
"I caught up to Jordan at about a mile into the run, but I didn't know the course very well so I just decided to stick behind him and knew that I'd have to make a move at some point," White explained after crossing the finish. "It just happened to be at the final turn before the finish line."
From the beginning the women's race was a two-person battle. Cave held a fast pace through the first run segment and carried a large lead heading into the first transition. Despite not being known for her running skills, Canada's Melanie McQuaid posted a solid first run split and held second starting her strongest discipline, the bike. Cave managed to hold her lead throughout the entire 21 miles of the bike, despite a couple of strong surges from McQuaid. Once the two returned to the run course, Cave managed to extend her lead. She crossed the finish line for the win in 1:40:36. McQuaid easily earned second at 1:41:05, with fellow Canadian and Xterra athlete Christine Jeffrey finishing in third at 1:44:22.
"This was a good get-out race," Cave said of her win. "I didn't really taper for this race. It was just an opportunity to come out and see what I can do. The first race of the season always hurts the most, so it's good to get it out of the way. Last year I had some really bad luck in this race and I wanted to come back this year and try to win it. I've done what I wanted to achieve so I'm happy."
Desert Classic Duathlon
McDowell Mountain Regional Park, Ariz. – Feb. 20, 2011
3.5-mile run, 21-mile bike, 3.0-mile run
Men
1. Nathan White (USA) 1:26:35
2. Jordan Rapp (USA) 1:26:38
3. Lewis Elliot (USA) 1:27:29
4. Benjamin Hoffman (USA) 1:27:44
5. Torsten Abel (GER) 1:28:25
Women
1. Leanda Cave (GBR) 1:40:36
2. Melanie McQuaid (CAN) 1:41:05
3. Christine Jeffrey (CAN) 1:44:22
4. Lisa Ribes (USA) 1:46:44
5. Laurel Wassner (USA) 1:47:43