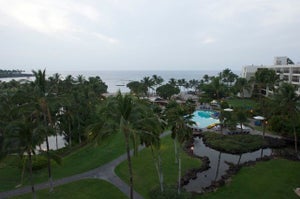 It's day 1 of Triathlete magazine's 2011 swimsuit photo shoot, which is being shot on the Big Island of Hawaii. The Mauna Lani Bay Hotel & Bungalows on the Kohala Coast of Hawaii is hosting the team, which includes five swimsuit models: Scottish pro Lesley Paterson; South African pro Dan Hugo; Canadian age-grouper Angi Greene; Triathlete.com contest winner Claudia Abreu; and Minneapolis-based age-grouper Lindsey Kurhajetz.
Triathlete magazine has been publishing an annual swimsuit photo shoot every year since 1997. Photos will be taken on the spectacular Mauna Lani Bay property, as well as in iconic locations from the Ironman World Championship course. The shoot, which will take place all week, will showcase the latest in triathlon swim apparel. Look for it in Triathlete magazine's July issue.
Click here to see behind-the-scenes action from last year's swimsuit shoot from Jamaica.