The 2011 Trakkers-Rev3 Triathlon Team is showing off its racing and training kits for the 2011 season. The kits were custom-designed by San Diego, Calif.-based Betty Designs.
See the press release below: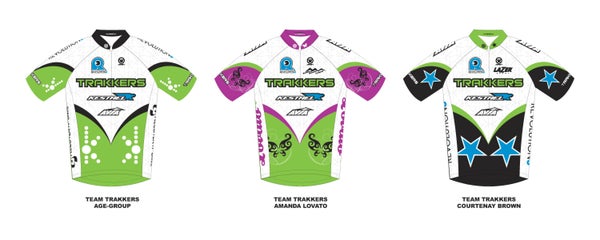 Betty Designs—the established leader in custom kit designs in the triathlon world—makes its mark by creating custom race gear for everyone.
Charlie Patten, Trakkers-Rev3 Head Honcho commented, "we are very pleased to be working with Betty Designs on the creation of our pro and age group apparel. Kristin has the unique ability to create a professional look that really stands out from what is typically seen on the race course—our team looks great!"
"Working with Trakkers for a second season has been a fantastic experience. From a design perspective, the project presented a unique creative challenge—to come up with a race kit that was bold and uniquely Trakkers/Rev3, while highlighting key sponsors," stated Kristin Mayer of Betty Designs. "This design then had to be individualized with colors, motifs and individual sponsor logos for specific pro athletes," she added.
The relationship between Betty Designs and Team Trakkers allows each pro to train and race in the team uniform, while maintaining their own personality and brand.
Pro team member Chris "Big Sexy" McDonald commented that "this year I loved having my kit custom designed by Betty Designs. It has bought my look to a new professional level and Kristin was a breeze to work with. She has come up with a look that brings a little of me into the design."
Hillary Biscay agreed: "I am so excited to finally have my very own Betty Designs race kit. I've always loved Kristin's flair and am fired up to finally have some of it on my kit! She does beautiful work!"
See also: 2011 Pro Team Trakkers/Rev3 Announced