Switzerland's Caroline Steffen and Australia's Chris McCormack lead the Kona Pro Rankings heading into February, thanks in large part to their podium finishes at the 2010 Ironman World Championship.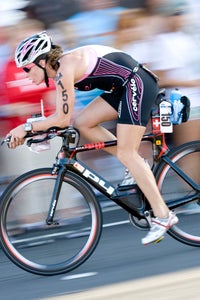 A win at the Ironman 70.3 Asia-Pacific Championships back in December propelled Steffen to the top of the rankings. Great Britain's Leanda Cave raced four times in October and November and sits in second position. Reigning Ironman World Champion Mirinda Carfrae holds the third position and will likely solidify her 2011 Kona slot with a finish at March's Ironman New Zealand triathlon.
The top men have been quieter than the leading ladies at this point in the season. McCormack's win at the 2010 Ironman World Championship gave him 6,000 points, which has been more than enough to keep him in the top spot. Andreas Raelert sits in second, based only on points earned at the Kona race. Fellow German Timo Bracht combines a sixth place finish at the Ironman World Championship and a win at Ironman Arizona to sit in the third ranking position.
The rankings will stay the same until at least March 5, the race date for Ironman New Zealand. February is the only dark month for racing in both the Ironman and 70.3 race series.
Under the new system 50 men and 30 women will qualify for the 2011 Ironman World Championship. Click here to learn more about the new qualifying system.
Women
1. Caroline Steffen (SUI) 6900
2. Leanda Cave (GBR) 6810
3. Mirinda Carfrae (AUS) 6500
4. Julie Dibens (GBR) 5650
5. Yvonne Van Vlerken (NED) 5100
6. Virginia Berasategui (ESP) 4450
7. Linsey Corbin (USA) 4360
8. Rachel Joyce (GBR) 4000
9. Jodie Swallow (GBR) 3750
10. Heleen Bij De Vaate (NED) 3660
Men
1. Chris McCormack (AUS) 6000
2. Andreas Raelert (GER) 5400
3. Timo Bracht (GER) 5300
4. Craig Alexander (AUS) 4950
5. Marino Vanhoenacker (BEL) 4900
6. Raynard Tissink (RSA) 4390
7. Pete Jacobs (AUS) 4260
8. Dirk Bockel (LUX) 3680
9. Eneko Llanos (ESP) 3100
10. Timothy O'Donnell (USA) 3000
Michael Raelert (GER) 3000
Click here for the complete rankings.