With the Rev3 Costa Rica race taking place this weekend, we have a look at the pros and cons of triathlon training and racing in this special country.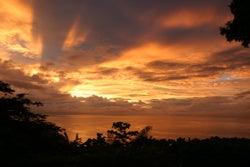 Costa Rica is the wonderland of Central America—a jewel for nature lovers with its colorful greenery, waterfalls and picture-perfect sights. It is also an adventure paradise with its famous zip lines, hard core surfing and plenty of scuba diving sites. Yet, it is also the home to numerous triathletes who dig riding next to the coastline one day and in the dark, wet tropics the next.
The country certainly has a great deal to offer athletes: stunning views of the water, beautiful ocean temperatures, an ability to train all year long (you won't find any harsh winters here), a laid-back attitude from the locals and loads of fresh fruit along the bike rides. The professionals at the triathlon camps seem to be enjoying the refreshing swim sessions and watermelon bought right from the side of the road.
But along with the pros of training and racing in Costa Rica comes a price must be paid. First of all, the humidity is sticky and heavy. Everyone is coming in from a long ride covered in salt and licking their lips.
Professional triathlete Cesar Valera recommends bringing your inhaler if you use one to deal with the thick air. "The humidity affects your breathing and if you suffer from asthma, it will make it difficult."
Plus, the biking here will make or break your triathlon finish. The streets are hilly and challenging and the roads are not all perfectly paved. Jim Vance, a triathlon coach who is running one of the camps this week, advises using a compact chain ring for the steep climbs and proper cassettes. Additionally, the coastal winds can change direction at any given time so be prepared to hang on (a road bike is probably preferable to a tri bike).
The sun is also hot and unforgiving, so sunscreen with high SPF is always in order as is copious amounts of water—not just for hydration, but to splash on your body—and electrolyte replenishments are a must.
But in spite of these cons, watching these triathletes sip on fruity drinks while relaxing on the beach after a hard training day makes the effort seem well worth it.
Check back to Triathlete.com throughout the next few days for more from Costa Rica.