Jonathan Hiipakka, an age-grouper from Michigan, has had two open-heart surgeries to replace his aortic valve with a pig valve, a fix that should last between 10 and 15 years. Due to Hiipakka's triathlon training and racing, however, his first valve needed to be replaced after only eight years.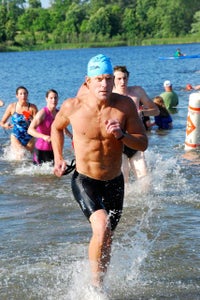 Hiipakka, a father of two and owner of a general contracting company, grew up with doctors telling him he had a heart murmur and that he might have complications in his later years, but at age 27, he had his first open-heart surgery to replace the valve. Before his surgery, doctors took six months to come up with a correct diagnosis because of his odd symptoms—shortness of breath and problems with his kidneys and liver.
He discovered triathlon between his first and second surgeries. After wrestling during college at Michigan State, he started running and tried a triathlon. "I was hooked," he says. However, the extra physical strain his body took on through triathlon wore the pig valve out more quickly, and by 2006, only eight years after his first surgery, he knew something wasn't right. "For a year, I knew [the valve] was pretty much shot," he says. "I could feel my heart hurting and I passed out twice."
In 2007, he had a second open-heart surgery. His doctor theorizes that the valve calcified with the extra workload, but it's not definitive. "Not many people with a pig valve put in them still continue to compete," Hiipakka says. After the surgery, though, Hiipakka was restricted from physical activities outside of walking for a full three months. "It's like starting from scratch."
Hiipakka had coached himself up until last summer but is now coached by Lee Gardner of Trismarter.com, who has experience working with athletes with medical conditions. During the 2011 season, Hiipakka plans to race Ironman 70.3 Florida in May, hoping through it he can win a slot for the Ironman World Championship 70.3 in September in Las Vegas.
Based on how quickly his last heart valve lasted, Hiipakka anticipates his next open-heart surgery to be in 2014. Until then, he's enjoying training and racing, and he feels that his heart condition has made him a stronger triathlete. "You would assume after open-heart surgery that you can't run or get back into it. I'm running at 85 percent efficiency compared to a normal heart," he says. "I've learned that I have to be more strategic. You learn to recognize your strengths and weaknesses. It made me a smarter racer."