The window of opportunity to toe the line at the 2011 Ironman World Championship triathlon in Kona, Hawaii without qualifying at an Ironman event is closing quickly.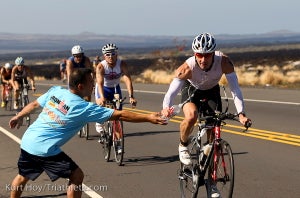 The Ironman lottery began in 1983 and was the vision of one of Ironman's founders, John Collins, as a way to provide athletes of all abilities the opportunity to qualify for the Hawaii Ironman.
The Ford Ironman World Championship selects 200 athletes each year to participate through a lottery system. For the first time in the history of the lottery, slots will not be divided between U.S. and International athletes; all 200 names will be drawn from one pool for selection. Entry into the lottery comes at a cost of $40. For an additional $50 athletes can gain entry into the Passport Club, which offers an "increased chance" of being selected.
The opportunity to register for the lottery closes at 11:50 PM EST, Monday, February 28, 2011. The winning entries being announced at noon EST on Friday, April 15, 2011.
Click here to register for the lottery.
Click here to view Triathlete.com's complete coverage of the 2010 Ironman World Championship.