Need some new training ideas? Check out these sites for pilates exercises, yoga videos and other triathlon training videos aimed to help endurance athletes.
Written by: Jené Shaw
Yoga for Athletes
Yogavibes.com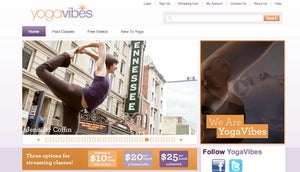 Sage Rountree, USAT coach and the author of "The Athlete's Guide to Yoga," instructs online classes at Yogavibes.com. You can choose from more than 300 free yoga videos from a variety of instructors, or pay for full classes at $10/per class, $20 for 5 classes/month or $25/month unlimited. By March, Sage will be filming one yoga for athletes class a week so viewers will have access to fresh content specifically geared for endurance athletes.
Online Swimming Videos
Goswimtv.com
Go Swim videos are made by a group of "swimmers who swim really fast," including former Olympians and world record holders. You can find more than 200 free swimming Drills-of-the-Week videos ranging from "Freestyle Donut Catch" to "Butterfly Vertical Kick." Or you can pay a one-time fee for unlimited viewing of longer, more in-depth instructional videos, which you can view on your mobile phone, Wi-Fi device or computer.
Pilates for Triathletes = Triathilates
Energyfitnesscoaching.com
Chicago-based Level 2 USAT coach Kelly Wissolik created Triathilates, taking the basic movements of Pilates and turning them into a triathlon-specific workout. The workouts focus on core conditioning, stretching and improving muscular imbalances specifically found in endurance athletes. Her four pilates videos—"Fusion," "Function," "Balance" and "Stability"—can be downloaded in an MP4 format for $9.99 each, or purchased by DVD.
On Demand Cycling Training
Cadencecycling.com
If you're getting sick of your typical indoor cycling workout—or simply need a little variety—Philly-based bike shop Cadence offers unlimited "on demand" swimming videos, plus live streaming workouts twice a day, with CadenceTV for only $99/year + $15 activation fee. If you work with a power meter or have performed some physiological testing, you can plug in your numbers to get specific ranges to hit throughout the workout.