Triathlete.com chatted with 2010 USA Triathlon Age Group Athlete of the Year Kaleb VanOrt to find out what it takes to top the age group ranks.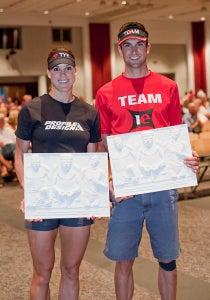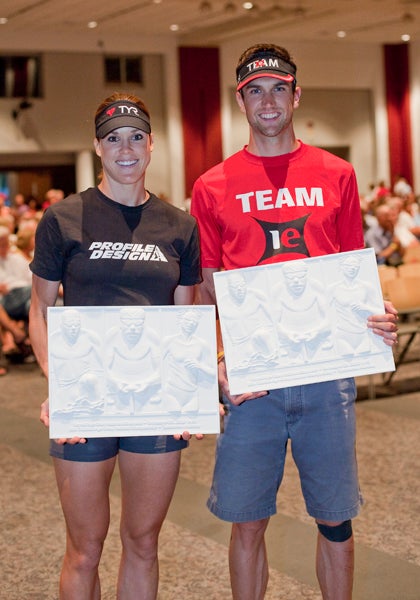 USA Triathlon announced the 2010 Age Group Athletes of the Year, presented by Garmin, an honor awarded annually by USA Triathlon's Age Group Committee and Duathlon Committee.
Overall Triathlete of the Year honors went to Kaleb VanOrt of Mishawaka, Ind. and Mandy McLane of Boulder, Colo. They were also the overall winners at the 2010 USA Triathlon Age Group National Championship.
In addition to her win at Age Group Nationals, McLane captured the women's 30-34 title at the Ironman World Championship 70.3 in Clearwater, Fla., and was the top elite amateur finisher at the Miami International Triathlon and the St. Anthony's Triathlon.
VanOrt posted elite age group victories at the Chicago Triathlon and Rev3 Knoxville.
Triathlete.com chatted with men's honoree VanOrt to get to know the athlete behind the honor.
Triathlete.com: How and when did you get your start in triathlon?
VanOrt: I started doing triathlon in 2008. I did two off-road tris in Indiana for fun, and I enjoyed it so much that I decided to set a goal for 2009 to make it to the Xterra US Nationals. I joined the USAT Collegiate Recruitment Program during the 2009 season and got paired up with Greg Mueller, my coach, through the program. After that, I started to get serious in my training and things have really taken off.
Triathlete.com: What's your proudest achievement in the sport?
VanOrt: Being selected as the Age Group Triathlete of the Year.
Triathlete.com: What is your biggest strength as a triathlete—swim, bike or run?
VanOrt: My run is my bread and butter.
Triathlete.com: What's your go-to piece of nutrition during a race?
VanOrt: I always carry Hammer Heed in one of my water bottles and take a Hammer Gel right before I get off the bike.

Triathlete.com: Do you have a favorite race and race distance?
VanOrt: Olympic distance. I am so new to the sport that I have not done enough races to have a favorite.

Triathlete.com: Are you self-coached or do you work with a coach?
VanOrt: Greg Mueller is my coach, and without him I would not have this amount of success.
Triathlete.com: What tri gear can you not live and race without?
I cannot live without Hammer Nutrition and my compression gear. I use Hammer products before, during, and after working out. As for my compression gear, I have socks, calf sleeves, tights and leggings that get worn depending on my workouts and what is sore. I cannot race without my Rudy helmet.
Triathlete.com: What does this recent USAT honor mean to you?
VanOrt: Greg and I set out last season to do great things and this is the icing on the cake.

Triathlete.com: Any advice for age-groupers looking to take their training and racing to the next level?
VanOrt: You have to be dedicated to the sport to make the jump. Don't get me wrong, you have to have fun or your time in the sport will not last long, but workouts have to come first and you have to make sure they are quality when they need to be.

Triathlete.com: Do you plan to go pro?
VanOrt: Yes. I had a lot of outside pressure to go pro last year in the middle of the season, but I did not feel I was ready to make the jump. This year I feel things are in place in my training and sponsor support to make the leap.