Several top triathlon professionals have packed up and have arrived in (mostly) sunny Tucson, Ariz.
While Boulder, Colo. enjoys top town status throughout the summer, the winter months belong to Tucson.
Looks like three-time Ironman World Champion Chrissie Wellington is the latest pro to discover the benefits of the Southwest desert. She's also discovered that despite averaging 350 days of sunshine a year, Tucson does experience a rainy day here and there.
@ChrissieSmiles: rain. in the desert? bonkers!
Reigning Ironman World Champion Mirinda Carfrae and boyfriend American triathlete Tim O'Donnell are also temporarily calling Tucson home.
@MirindaCarfrae: You know Tucson you're alright :). Rode mt Lemmon & ate a big cookie at the top today. I think @juliedibens would approve.
@TOinTRI: Tucson just scored some mad points, local donut shops! It's still January, don't want to be at race weight yet!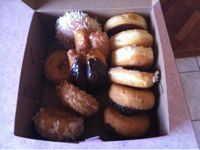 Recent Ironman 70.3 Pucon winner Linsey Corbin has also arrived in Arizona:
@LinseyCorbin: Goodbye Utah. Hello Arizona!
They likely won't be the last triathletes to migrate to Tucson this year. Rebeccah Wassner, Laurel Wassner, Samantha McGlone, Simon Whitfield, T.J. Tollakson and others have been known to call the desert home.
Check back daily to Triathlete.com for our Tweet of the Day feature!