After a successful inaugural San Diego triathlon, the TriRock Series will expand to four destination cities across the country for 2011.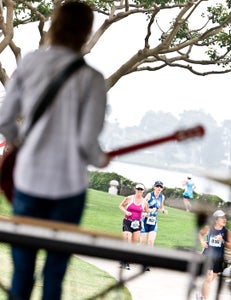 The launch of the new 2011 series will begin on May 14, 2011 in Annapolis, Md. and make stops in Seattle, Wash. San Diego, Calif. and Gettysburg, Pa.
TriRock debuted in San Diego on September 12, 2010 to a sold-out crowd of more than 1,000 triathletes. The unique sprint triathlon featured a rocking competition, complete with a live band playing from a boat on the swim course and a post-race concert and beer garden.
Unlike any other triathlon experience the industry has to offer, TriRock is perfect for beginners and veterans alike. In 2011, the rock-themed triathlon series will feature bands along the swim, bike and run courses, followed by a post-race party and concert. Each race will also offer unique divisions, including Military, Athena & Clydesdale, and a Beach Cruiser division in San Diego.
"This endeavor into triathlon events is extremely exciting for us and we have already seen tremendous success with our inaugural race," said Scott Dickey, President of Competitor Group and board member at Triathlon America. "We really see a unique niche in the endurance space for triathlons that are challenging, but also fun and accessible to new audiences."
Both Olympic and sprint distances are offered in San Diego and Gettysburg. TriRock Annapolis will be solely a sprint distance event, while TriRock Seattle will offer Olympic distance only. Participants looking to test the waters of the triathlon experience can also sign up as a three-person relay team, taking on either the swim, bike or run component.
All participants will receive a finisher's medal, technical t-shirt, red carpet finish, free food and access to the post-race concert and beer garden. Registration is open now.
2011 TriRock Series Schedule:
TriRock Annapolis – May 14, 2011
TriRock Seattle – July 17, 2011
TriRock San Diego – September 11, 2011
TriRock Gettysburg – October 16, 2011