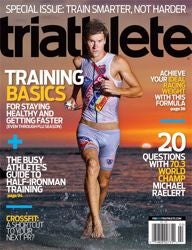 The February 2011 issue of Triathlete magazine, on newsstands now, is packed with advice and insight into how to train smart during the winter months.
On the cover is German professional and two-time winner of the Ironman World Championship 70.3, Michael Raelert, and inside you'll find a Q&A about his training philosophies and the possibility of a Raelert versus Raelert showdown in Kona in 2011. The issue also brings you the keys to training while you're sick, a peek into the high-intensity and quickly growing phenomenon of CrossFit, and an inside look into the sexual health issues triathletes face due to bike saddles. And you can toe the start line of your first half-iron triathlon in 2011 with Duane Franks' 16-week half-iron training plan, designed specifically for busy triathletes.
The issue will also be packaged with the 2011 Road to Kona and Vegas, an event guide for all the 2011 Ironman and Ironman 70.3 races.