Claudia, an avid triathlete and cancer survivor originally from Caracas, Venezuela, is the winner!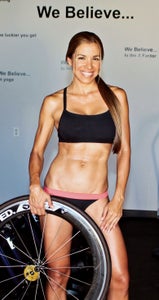 Claudia was voted as the August monthly winner and faced off against the four other finalists for the title of Miss Triathlete.com 2010. The editors chose Claudia for her passion for the sport, inspiring story and beauty. She will be featured in Triathlete's annual swimsuit photo shoot and will also receive $500 in merchandise from TYR.
Claudia will join a crew of swimsuit models, photographers and editors as they travel to Kona, Hawaii for the 2011 Triathlete magazine swimsuit shoot.
"After years of reading Triathlete magazine, I am thrilled and honored to be included in the swimsuit issue," Claudia said when she was informed of her win. "What a great way to kick off my Ironman Canada training."
This year's shoot will take place at the end of February in a place full of triathlon history… Kona, Hawaii. The crew will be staying and shooting at the beautiful Mauna Lani Bay Hotel on the Kohala Coast of the Big Island.
Photographer Damien Noble Andrews of Los Angeles, Calif. will shoot Claudia and the other models on site at the hotel, as well as at many iconic Ironman World Championship course locations. The photos will be featured in the July issue of Triathlete.
Click here to read more about Claudia.
Click here to look back on last year's swimsuit shoot.
See all of the finalists below:

Miss Triathlete.com July
Miss Triathlete.com August
Miss Triathlete.com September
Miss Triathlete.com October
Miss Triathlete.com November
Miss Triathlete.com December