Swim paddles are unique training tools that help swimmers find the optimal hand position while improving strength. This swimming gear review focuses on the Finis PT Paddle.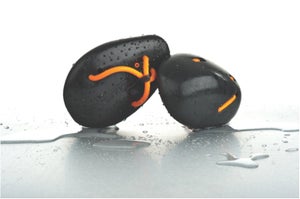 Swim paddles are typically used as a strength-training tool. The swimmer straps a big plank onto his hand to increase his resistance and feel for the water. This allows the swimmer to learn how to optimally position the hand while also improving strength. The PT Paddles work in exactly the opposite way—they reduce the swimmer's grip on the water.
This unique training tool is a bulbous piece of plastic that straps onto the swimmer's palm and streamlines his hand, similar to an aero helmet. Turning the swimmer's hand into a bulb—rather than a flat paddle—reduces the hydrodynamic drag between the hand and the water and forces the swimmer to use his forearm to create power. To generate that additional power, the swimmer has to insert his forearm into the water vertically, and this stroke change helps generate additional grip on the water when swimming with an open or closed hand.
Swimming with a balled-up fist accomplishes the same thing, so why pay money for a swimming equipment that can be replicated by closing your hand? Because keeping a tight fist requires a surprising amount of attention and inadvertently opening the hand increases grip on the water. Allowing your hand to creep open creates the illusion that your technique has improved but in reality, you simply cheated the drill.
We found swimming with PT Paddles to be more effective and enjoyable than performing the "fist drill" because the paddles take the focus off your fists, which allows it to be redirected to your swimming technique. Plus, it is nearly impossible to cheat the drill while wearing these paddles.