Australia's Chris McCormack continues to lead the men's Kona pro rankings thanks to his Ironman World Championship win, while Great Britain's Leanda Cave has taken the top spot in the women's rankings.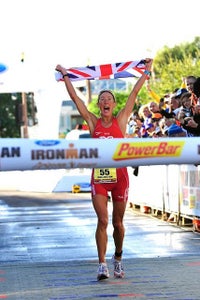 The 2011 Ironman World Championship is still more than 10 months away, but professional triathletes from around the world are already working hard to qualify for the event. In the past, professionals would qualify in a similar way to age-group athletes; a certain number of Kona qualifying spots for professionals were available at each Ironman. As of Sept. 1, 2010, professionals must qualify using a complicated points-based system.
Winners from the past five years receive automatic qualification, but must validate their entry by completing an Ironman. Three-time Ironman world champion Chrissie Wellington validated her entry by completing (and winning) the 2010 Ironman Arizona race. Australia's Mirinda Carfrae has announced she will be competing at the 2011 Ironman New Zealand triathlon. Other past champions have yet to announce if and when they will validate their entries.
Professionals who have not won the Ironman World Championship in the past five years are working to earn points in hopes of grabbing one of the 50 spots available for pro men or the 30 spots available for pro women.
Because we are at an early stage in the 2011 qualifying process and because the Ironman World Championship race hands out the most available qualifying points, the rankings at this point are based largely on where athletes finished in Kona.
Great Britain's Leanda Cave has had a busy six weeks since the Hawaii Ironman. She raced in three WTC races in four weeks. Her 10th place finish in Kona, combined with podium finishes at Ironman 70.3 Miami, the Ironman 70.3 World Championships and Ironman Arizona have propelled her to the lead of the women's rankings with 6810 points. Carfrae sits in second with 6500 points, with Great Britain's Julie Dibens rounding out the top three with 5650 points.
On the men's side, McCormack's victory leaves him sitting in first, with second place Kona finisher Andreas Raelert of Germany in second. Germany's Timo Bracht sits in third thanks to a sixth place finish in Kona and a win at Ironman Arizona.
2011 Kona Pro Rankings, as of Nov. 29, 2010
Women
1. Leanda Cave (GBR) 6810
2. Mirinda Carfrae (AUS) 6500
3. Julie Dibens (GBR) 5650
4. Caroline Steffen (CHE) 5400
5. Yvonne Van Vlerken (NLD) 5100
6. Virginia Berasategui (ESP) 4450
7. Rachel Joyce (GBR) 4000
8. Linsey Corbin (USA) 3860
9. Heleen Bij De Vaate (NLD) 3660
10. Amanda Stevens (USA) 3510
Men
1. Chris McCormack (AUS) 6000
2. Andreas Raelert (GER) 5400
3. Timo Bracht (GER) 5300
4. Craig Alexander (AUS) 4950
5. Marino Vanhoenacker (BEL) 4900
6. Raynard Tissink (RSA) 4390
7. Dirk Bockel (LUX) 3680
8. Eneko Llanos (ESP) 3100
9. Michael Raelert (DEU) 3000
10. Pete Jacobs (AUS) 2700