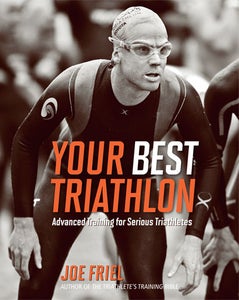 Joe Friel has written a new book for committed triathletes. "Your Best Triathlon: Advanced Training for Serious Triathletes" is a master plan for committed triathletes to achieve their best race ever. The book is now available in bookstores, triathlon and running shops, and online.
In "Your Best Triathlon," Friel guides triathletes through every week of their season, outlining clear objectives and the guidelines to meet them. Friel reveals the highly refined training plans he has developed over his 30-year career coaching elite and age-group triathletes. He provides a tool kit of proven workouts that isolate and develop specific abilities. Hundreds of thousands of triathletes have relied on Joe Friel and his ground-breaking best-seller, "The Triathlete's Training Bible." Now with "Your Best Triathlon," Friel takes triathletes beyond the Bible and coaches them to their best performance ever.
Triathletes using "The Triathlete's Training Bible" will create their own custom, self-coached training plan and use the book to learn everything they need for season after season of success in the sport. Triathletes who train using "Your Best Triathlon" will achieve breakthrough race performance by training the same way Joe Friel coaches his personal clients. In "Your Best Triathlon," Friel defines the goals of each training phase and explains his strategies for achieving them. Triathletes will use Friel's training plans for sprint, Olympic, Ironman 70.3, and Ironman race distances and will master Friel's most effective workouts to improve specific abilities like endurance, economy, and muscular power. Within each workout and training plan, Friel offers simple modifications to better manage personal limiters. "Your Best Triathlon" adds depth and detail to the "Training Bible" approach, presenting relevant information at the right phase of training. Triathletes will refer to "Your Best Triathlon" throughout the season, just as they would check in with their coach.
Book preview provided by Velopress.