Wellington sets new world-record of 8:36:13, shattering former record by more than 9 minutes.
Written by: Julia Polloreno
Despite windy conditions and sporadic rain, Tempe, Ariz. produced a world-record setting stage today, with Chrissie Wellington covering the Ironman distance in 8:36:13. Germany's Timo Bracht of Team Commerzbank turned in a strong bike-run combo to take the overall win in 8:07:16.
Men's Race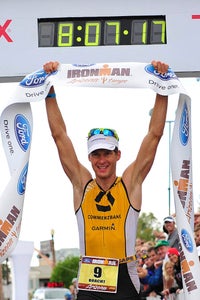 More than 2,500 athletes jumped into 61-degree Tempe Town Lake early this morning for the 2.4-mile swim. The field's strongest male swimmers, including ITU racer and collegiate swimmer John Dahlz; Kevin Everett; Rasmus Henning; Matt Reed, making his Ironman debut; and Brandon Marsh, took an early lead. Dahlz was the first out of the water in 47:44, running into T1 with Henning and Everett, who was the first athlete out of transition and out onto the bike course. Everett, Henning, Reed and Dahlz rode at the front for the first 30 miles of the bike, pursued by a hard charging Chris Lieto. With winds whipping up to reported speeds of 25 mph, the men's race at the front was soon joined by Jordan Rapp, who overcame major injuries sustained after a hit-and-run bike accident last year to start today, and Timo Bracht. At the halfway point, Rapp rode in the lead, followed closely (mere seconds) by Lieto, Henning, Bracht and Everett. By 90 miles Bracht asserted a small lead, with Reed dropping off the lead group by about eight minutes. Just before entering T2, Henning had to stop in a penalty tent for four minutes, and was left behind by Rapp, Bracht and Lieto. Bracht was the first out onto the run and held off efforts by Rapp, Rasmus Henning and Tom Lowe, the three men who posed the biggest threats during the marathon.  It was the first-ever Ironman for Great Britain's Tom Lowe, also known as Chrissie Wellington's boyfriend. Bracht's 2:48:59 run sealed the victory; Henning surged to second-place with his 2:48:35 effort, leaving many to wonder if he'd won had he not been issued the four-minute penalty. Lowe rounded out the top-three with his 8:11:44 debut.
Women's Race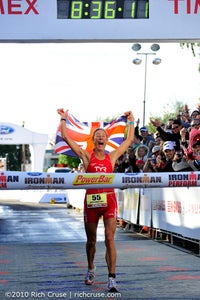 After bowing out of Kona due to illness, Chrissie Wellington approached IM Arizona with a vigor and drive that produced a world-record performance. "This was my Kona," Wellington said after crossing the finish. From start to finish, Wellington was a dominating force today, swimming on the tails of swim leaders Leanda Cave, Rachel Joyce and Meredith Kessler. Though Cave led in the early miles of the bike, Wellington was firmly in command by the 40-mile mark. Joyce, Kessler, Heather Wurtele and Linsey Corbin rode close behind, pushing the pace but unable to keep up with Wellington, who extended her lead going into the turnaround. At 74 miles, Wellington was only 16 minutes down on then-men's leader Jordan Rapp. Flashing her huge trademark smile, Wellington cruised into T2 with a comfortable lead after setting a new bike course record of 4:47:06. Cave was 12:12 back in second, while Wurtele held third and Corbin fourth nearly 20 minutes behind Wellington. Pushing a blistering run pace of about 6:15 in the early miles of the run, Wellington ran away from the field, finishing with an average marathon pace of 6:35. Her marathon time: 2:52:55. Though Corbin wouldn't break the elusive 3-hour mark for the marathon, she ran down the competition for second place (3:03:28). Leanda Cave finished about 8 minutes behind Corbin for third.
Click here to see a photo gallery of the race.
2010 Ironman Arizona triathlon, Men's Results
ATHLETE    RANK    AGE/DIV    SWIM    BIKE    RUN    TOTAL
1    Bracht, Timo    12/1/1    35/MPRO    00:51:24    04:23:17    02:48:59    08:07:16
2    Henning, Rasmus    2/4/2    35/MPRO    00:47:58    04:30:35    02:48:35    08:10:58
3    Lowe, Tom    28/5/3    32/MPRO    00:56:37    04:22:51    02:48:11    08:11:44
4    Rapp, Jordan    16/2/4    30/MPRO    00:51:57    04:22:38    02:58:02    08:16:45
5    Major, Jozsef    35/7/5    31/MPRO    00:58:40    04:23:16    02:59:18    08:26:15
6    Reed, Matty    4/9/6    35/MPRO    00:48:02    04:40:56    02:59:39    08:33:08
7    Longree, Max    26/22/7    29/MPRO    00:56:33    04:42:22    02:50:47    08:33:28
8    Mikelson, Ian    11/13/8    30/MPRO    00:51:15    04:42:23    03:03:38    08:41:18
9    McDaniel, Joe    8/20/9    /MPRO    00:51:07    04:46:44    03:01:47    08:43:23
10    Toth, Anthony    27/23/10    30/MPRO    00:56:36    04:42:34    03:02:43    08:46:57
2010 Ironman Arizona triathlon, Women's Results
ATHLETE    RANK    AGE/DIV    SWIM    BIKE    RUN    TOTAL
1    Wellington, Chrissie    4/1/1    33/WPRO    00:51:56    04:47:06    02:52:55    08:36:13
2    Corbin, Linsey    6/4/2    29/WPRO    00:59:35    04:58:13    03:03:28    09:05:33
3    Cave, Leanda    1/2/3    32/WPRO    00:51:13    04:59:55    03:18:12    09:13:50
4    Keeran Kessler, Meredith Brooke    3/5/4    32/WPRO    00:51:21    05:07:45    03:11:32    09:15:01
5    Wurtele, Heather    5/3/5    31/WPRO    00:56:34    04:59:33    03:18:45    09:19:10
6    Csomor, Erika    11/10/6    37/WPRO    01:00:04    05:09:24    03:08:33    09:22:38
7    Madison, Mackenzie    19/8/7    24/WPRO    01:07:02    05:02:00    03:09:57    09:24:11
8    bij de Vaate, Heleen    20/11/8    36/WPRO    01:07:05    05:04:39    03:12:54    09:29:15
9    Bromme, Uli    12/12/9    29/WPRO    01:00:08    05:12:12    03:14:17    09:31:22
10    Harrison, Lauren    13/6/10    33/WPRO    01:02:50    05:01:45    03:24:51    09:33:53