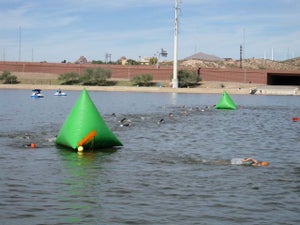 Tempe Town Lake is officially back in business. On Saturday, November 6 the lake welcomed a few hundred athletes into the waters for a DCB Extreme Adventures Open-Water Swim Event.
The success of the open water-swimming event bodes well for November 21's Ironman Arizona. The fate of the race was put into question after the dam broke in mid-July, emptying the lake. The City of Tempe worked quickly to repair the dam and re-fill the lake in time for the race.
The water temperature of the lake on Saturday was a warm 71 degrees. That is expected to cool to the mid-60s by race day.
See also:
Photos: Tempe Town Lake Set To Re-Open Tuesday
Tempe Town Lake Dam Breaks