Purplepatch Fitness coach Matt Dixon has announced that Canada's Samantha McGlone is the latest athlete to join the Purplepatch pro lineup.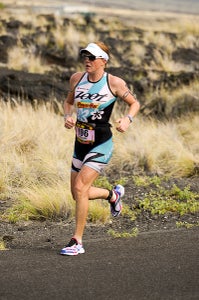 "I am excited to be embarking on a new phase of my career with Purplepatch Fitness," McGlone states on the Purplepatch website. "Athletes change and develop over time and coaching strategies should evolve with them. Immediately I was impressed with Matt's philosophy and his individual approach to each athlete's needs. I have full confidence trusting my training to Purplepatch and I am looking forward to seeing the results in 2011 and beyond."
Other athletes coached by Matt Dixon include Chris Lieto, Luke Bell, Meredith Kessler, Linsey Corbin, James Cotter and Rachel Joyce.
About McGlone: After getting her start in draft-legal ITU racing, McGlone shifted her emphasis solely to the half-Ironman distance and peaked with a win at the 2006 Ironman World Championship 70.3 race. McGlone debuted at the Ironman distance in 2007, finishing second at the Ironman World Championships less than six minutes back of Wellington. The podium finish made McGlone a favorite for the 2008 Kona race, but she was forced to pull out of the race at the last minute to do an injury. McGlone spent the first half of 2009 recovering from the same injury. McGlone earned a Kona slot at Ironman Lake Placid and went on to finish fifth in Kona in 2009. Convinced she still had more fitness left for the year, McGlone raced Ironman Arizona six weeks after Kona and earned her first Ironman victory. McGlone's 2010 season included a win at Ironman 70.3 Syracuse and a 16th place finish at the Ironman World Championship.
Check back to Triathlete.com as we continue to follow this story.