Tim O'Donnell heads into this weekend's Ironman World Championship 70.3 as one of the top Americans at the half-Ironman distance. Triathlete.com caught up with O'Donnell to talk about a new partnership with a veterans organization, his plans to jump up to the iron distance and what it will take to win this weekend in Clearwater.
Triathlete.com: You've announced a partnership with Team Red, White and Blue. Tell us more about the organization.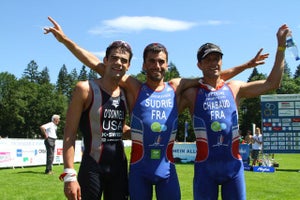 O'Donnell: It's a veterans foundation specifically for wounded vets. It's different than some of the other foundations out there like the Wounded Warrior Project. It's more of a grassroots movement. We want to help both the physically wounded and mentally wounded. We also want to develop awareness. The big goal for the sporting side through triathlon and running is simply to raise the awareness level of everyone out there. We want people to understand that we are going into a Vietnam type of situation very shortly here. People are going to need financial and emotional support when they come back. The goal is to establish relationships for these veterans. They can have someone who can help them have a successful transition.
Triathlete.com: How did you get involved?
O'Donnell: The founder Mike Erwin e-mailed me a couple of months ago. At the time I was thinking of starting my own foundation. I spent nine years in the Navy and I wanted to give back toward a cause that is important to me. He contacted me and I asked around to some of my friends still in the Navy community. They all spoke highly of Mike of what's he's done in Afghanistan. He also knew of a friend, Dan Cnossen, who was on the Naval Academy tri team with me and was wounded while in combat. When Mike came to me with this bigger picture idea, I knew it was a good fit. He is a friend of Dan and I just knew this was the organization I wanted to become a part of.
Triathlete.com: Can you expand on your time in the Navy and the influence that has had on your decision to support Team Red, White and Blue?
O'Donnell: I had a very interesting career in the Navy. I was part of the Special Operations community, but I spent a lot of my time in the World Class Athlete Program. When I entered the Naval Academy I had never done a triathlon. I wanted to go and serve our country. I wanted to represent our nation. I still have that connection. Without the support of the Navy, I probably wouldn't even be in the sport. The Navy and the military gave me this sport and this is my chance to give back.
Triathlete.com: Can you tell us about the race kit you'll be wearing at the Ironman World Championship 70.3 race in Clearwater?
O'Donnell: This year Ironman started the U.S. Pro Championship in Texas. I was second to Terenzo [Bozzone], but was the first American so I hold the title of U.S. champion. K-Swiss and I teamed together to build a red, white and blue kit. We put that together and I made sure the Team RWB logo is on the kit. I think with Veterans Day and my position as the U.S. champion, it's a great opportunity for me to start raising awareness through the sport.
Triathlete.com: How can someone get involved with the organization?
O'Donnell: Go to TeamRWB.com. There are different roles you can fill. You can represent them in a race, you can develop a one-on-one relationship or you can be a concerned citizen and donate. Even if you can help raise awareness without raising money, it can really help the cause.
Triathlete.com: Speaking of red, white and blue, do you have any plans to try to qualify for the 2012 Olympics?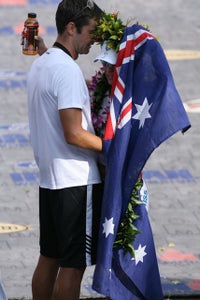 O'Donnell: It's definitely been my plan. I'm going to make a final decision after Clearwater. I'm kind of torn with the opportunities I have in long course. That's what I'd love to do. I think there are opportunities out there for me. I know I could do well in Kona and I'd love to fulfill that goal.
Triathlete.com: On the topic of the Ironman World Championship, in a recent interview with Tim DeBoom he told us he thinks you could be one of the next great American contenders at the Ironman distance. What characteristics do you have that could make you a good Ironman athlete?

O'Donnell: There are a couple of different aspects. Physically I have a really high cadence when I run. A lot of guys have told me with a higher cadence and the conditions in Kona I could fare pretty well. I think the most important part is the mental side. The attitude, the dedication and the smarts to be able to lay out a good plan for that race. I think it's also my military background. Tim came with me to the Naval Academy earlier this year and I think he saw the connection. I think we're very similar in general and he sees some of him in me.
Triathlete.com: Switching topics to this weekend's race, how are you feeling less than one week out?
O'Donnell: I feel good. All of the money is in the bank, as they say. There's nothing else I can do. I am a lot more focused going into Clearwater this year. I had an unbelievable season last year. I had accomplished so much at this point last year; it was almost too much to soak up. I've had a solid year this year as well, but Clearwater has been my goal this season. I'm in good running shape, which is key for this race.
Triathlete.com: When we saw you back in April you mentioned that your run would have to improve to have a chance to win in Clearwater. How are you feeling about your run now?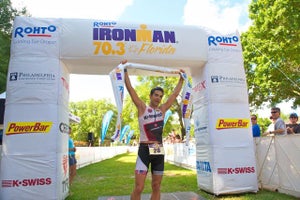 O'Donnell: That is definitely true. I did a couple of ITU races in the last couple of months. I intentionally made short races the focus on the second half of my year because Clearwater is so fast. I figured doing some ITU races in preparation would lead in perfectly. I'm running better than I have in the last couple of years. I know I have to run a 1:08 half marathon to win this race. Now I just have to execute.
Triathlete.com: Michael Raelert has been unstoppable this year. What's it going to take to beat him?
O'Donnell: Other than the 1:08 half marathon? I think the race could play out differently this year. There are only about 45 guys in the field this year. Last year was ridiculous. It was a big field. I think this race could be more like 2008 when Terenzo won. I think the bike will be harder. I also think Michael is the marked man going in this year.
Check back to Triathlete.com for continued coverage of the Ironman World Championship 70.3 race.