Defending Ironman World Champion Mirinda Carfrae of Australia has announced that her first race of the 2011 season will be Ironman Zealand on March 5, 2011. This will also be Carfrae's first Ironman outside of the Ironman World Championships in Kona.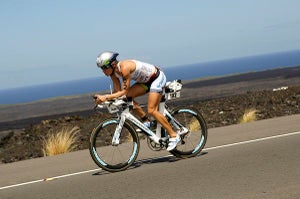 Carfrae made the announcement on both her facebook and twitter pages, saying "It is decided, my first race of the year will be Ironman NZ on march the 5th!"
The decision to race at Ironman New Zealand likely comes as a result of the new professional Ironman World Championship qualifying rules put into place by the World Triathlon Corporation for the 2011 season.
The rules state that "Past Kona champions will receive an invitation/exemption to enter the pro division in Kona for a period of five years after their last championship. Past champions will not be required to qualify during this five-year period. Past champions entering as pros will be required to validate their entry by completing a full-distance Ironman race during the Qualifying Year."
Although Carfrae has technically completed an Ironman in the qualifying year thanks her to her Kona finish, the rules also include the following statement: "Scoring points in Kona DOES NOT fulfill the requirement that each ranked athlete must score in a full-distance Ironman during the Qualifying Year."
By finishing the Ironman New Zealand race, Carfrae will have completed her qualifying process for the 2011 Ironman World Championship race. Carfrae finished second in her first Ironman at the Ironman World Championship race in 2009 with a time of 9:13:59. She then won her second Ironman in Kona in 2010 with a time of 8:58:36. Carfrae also owns the run course record in Kona, thanks to a 2:53:32 marathon performance in 2010.
See also:
– Mirinda Carfrae 2010 Ironman Post-Race Interview
– Breakfast With Bob: Mirinda Carfrae
– A Training Day With Mirinda Carfrae
– Training Log Kona 2010: Mirinda Carfrae