A long list of professionals will take the start line in Panama City Beach, Florida on Saturday in hopes of gaining valuable early-season points towards Kona qualification.
With defending champions Kirill Kotshegarov and Sofie Goos both choosing not to race this weekend, the chase for the win is wide open.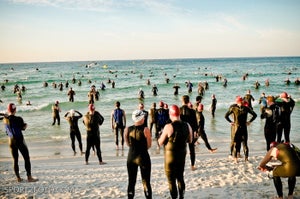 The deep start list on the men's side means that we could easily see a couple of unknown names on the podium. The timing of this race is also important. The winner of this race will be one of the athletes who isn't lethargic after a long 2010 season of racing. Luxembourg's Dirk Bockel and South Africa's James Cunnama have had stellar seasons, but both will be racing on tired legs. Bockel is less than one month removed from an eighth place finish at the Ironman World Championship. Cunnama has had a busy last couple of months with victories at both the Rev3 Cedar Point Full-Rev distance race and Ironman 70.3 Austin. Other top contenders include Ironman veterans Chris McDonald of Australia, Bryan Rhodes of New Zealand, Max Longree of Germany.
Athletes to look out for in the women's race include Hungary's Erica Csomor, and the United States' Kim Loeffler and Jessica Jacobs.
See the complete start lists below:
Men
Chris McDonald
Bryan Rhodes
Tim Snow
Richard Wygand
Alvaro Velazquez
Chris Bagg
Mike Caiazzo
Esben Hovgaard
Raymond Botelho
Sean Frost
Sergio Marques
Toby Radcliffe
Erih Pecnik
Damien Landon
Sandi Ivancic
Cesar Valera
Gudmund Snilstveit
Mike Schifferle
Karol Dzalaj
Kyle Pawlaczyk
Eneko Elosegui
Petr Vabrousek
Daniel Bretscher
Scott DeFilippis
Domenico Passuello
Bastie Christophe
Bojan Maric
Markus Strini
Jozef Vrabel
Blake Becker
Tyler Lord
James Cunnama
Brad Seng
Zach Ruble
Alex McDonald
Arland Macasieb
Jason McMillian
Romain Guillaume
Max Longree
Olly Piggin
Swen Sundberg
Jeremy Jurkiewicz
Massimo Cigana
Markus Fachbach
Martin Wagner
Dirk Bockel
Salvatore Cali Borges
Women
Tamara Kozulina
Irene Kinnegim
Natasha Van Der Merwe
Meike Krebs
Marek Nemcik
Danielle Sullivan
Karina Ottosen
Anne Basso
Jeanne Collonge
Jacqui Gordon
Jessica Jacobs
Kim Loeffler
Erica Csomor