The Endurance LIVE Consumer Show will take place in San Diego, Calif. on Saturday, Jan. 22. The show is free to all consumers and will be held in the San Diego Convention Center.
Consumers will have the opportunity to get a first-hand look at the hottest endurance products of 2011 at this first-class show. The world's top bike, wetsuit, tri apparel, running and nutrition manufacturers will be in attendance to showcase and demo their cutting edge gear.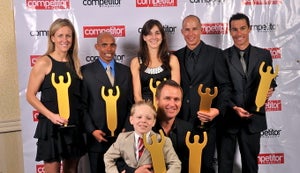 In addition to product sampling, consumers will be treated to training seminars and Q&A sessions with endurance legends such as Chris McCormack, Dean Karnazes, Matt Fitzgerald, Chris Carmichael, Josh Cox, Ryan Hall, Deena Kastor and more.
Group swim, bike and run workouts with the sport's top pros will be available for all attendees throughout the event.
The show will be followed by the Endurance LIVE Awards Gala, formerly named the Endurance Sports Awards. This event will take place at the Hard Rock Hotel in downtown San Diego. Award show packages are available for purchase.