The winner of the Miss Triathlete.com for the month of October is Michelina. You chose Michelina with your votes! The win means that she is a finalist for the Title of Miss Triathlete.com 2010. Michelina will also get $100 to spend on the TYR gear of her choice.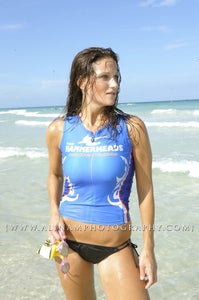 The overall winner will be chosen at the end of the year and will be featured in Triathlete's annual swimsuit photo shoot. The winner will also receive $500 in merchandise from TYR.
We chatted with Michelina to learn more about the personality behind the beauty:
Triathlete.com: Where do you currently reside?
Michelina: I'm originally from a suburb of Philadelphia called West Chester, but I currently live in sunny Miami, Fla. about a mile from a triathlon-training mecca—Key Biscayne. I swim in Biscayne Bay on a beach that has been dubbed "Tri Beach." I absolutely love living here in South Florida where we can swim, bike, and run year-round!
Triathlete.com: How long have you been competing in triathlons?
Michelina: My first triathlon was in 2008 while I was finishing up my graduate training in Neuroscience. I signed on to do a sprint triathlon to raise awareness and funding for amyotrophic lateral sclerosis (ALS) research in honor of a beloved law professor, Steven Gey. It was then that I learned of the Blazeman Foundation (WARonALS.com) and was instantly touched by the heroic journey of Jon Blais. Jon's parents, MaryAnn and Bob, are now my "Blaze-parents," always cheering me on as I continue to compete to raise awareness and funding for this insidious disease.
Triathlete.com: What is your proudest accomplishment in the sport?
Michelina: I would say my proudest accomplishment is always continuing to push myself to the limit and ultimately proving to myself that nothing is impossible. In doing so, along the way I'm proud that I've recruited others to join me in the awesome multisport lifestyle. Most had started out as runners and I gently pushed them into multisport by taking them out and quelling their fears on their first bike ride and open-water swim.
Triathlete.com: What does it mean to you to move on as a finalist in the contest?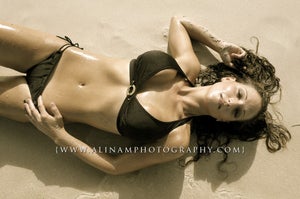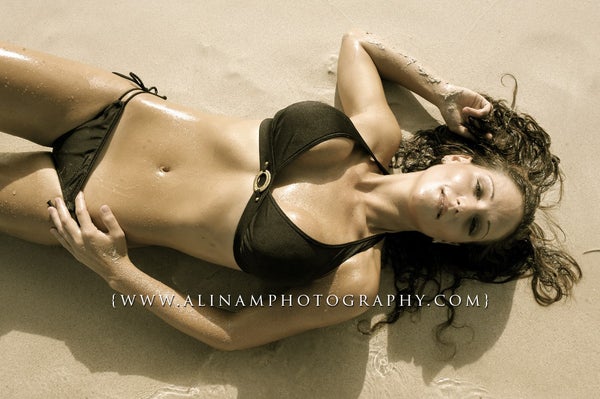 Michelina: Wow! Humbling, to say the least. I feel so incredibly honored to be able to represent the sport that I dedicate so much of my life to and to be considered among such strong, amazing, beautiful women as those chosen so far. As someone who grew up as an overweight kid, I can appreciate the hard work and dedication that comes along with adopting an active, healthy lifestyle. In my mid-teens, I managed to lose 75 lbs with simple diet and exercise and have kept it off for the past 13 years. I've worked very hard to get where I am now and feel very blessed to be where I am today.
Triathlete.com: Do you have a background in modeling?
Michelina: Once I'd initially lost the excess weight, I was happy to show off my new body. But the only modeling I've done was about 10 years ago for very small runway shows. One was on the beach for Roxy brand surf apparel and another was just for fun for a student organization at my college.

Triathlete.com: What do you think you'll spend your $100 from TYR on?
Michelina: I'll most likely finally get myself a sleek speed suit! Ever since I was a kid bumbling around the swimming pool, TYR has been my brand of choice for swim apparel because they are the best in terms of both fabric technology and style.
Triathlete.com: What do you like to do for fun outside of the sport?
Michelina: When not training and studying (I finished my Ph.D. and am now in my application year for medical school), I like to travel to shows to hear live music, like the Dave Matthews Band. I've been inspired by DMB since the 90s when I first started going to their shows. Other than that, my husband and I like going out boating with friends and exploring new places when we can.
Check back to Triathlete.com in the next few days for the Miss Triathlete.com November contest. To be considered, submit a color photo of yourself in your favorite swimsuit, along with your name, age, home address and email to trimodelsearch@gmail.com.
See also:
October Swimsuit Model Search Contest
Announcing Miss Triathlete.com September
Announcing Miss Triathlete.com August
And Miss Triathlete.com July Is…
Behind The Scenes Of The 2010 Triathlete Swimsuit Issue