#8
Eugene, Ore.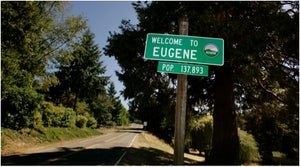 Long-famed as Track Town, USA, Eugene is gaining momentum in the multisport world as well. Certainly Eugene-local Cristina Caldwell—USAT's lone Oregon council member—has a hand in this. Her newly opened MultiSport Advantage's Performance Training Center offers a full range of coaching, group training, performance testing and retail services.
With a quality assortment of swimming pools, miles of multi-use paths, nearby hills for tougher trail running and a rich medley of riding opportunities, it's a wonder that Eugene seems yet to be discovered by the triathlon community at large. Perhaps the lack of local races (the Duck Bill Thrill Olympic Triathlon is the sole contender) dissuades some, or possibly the rumors of relentless rain. In reality, while Eugene's grey skies can dampen an outdoor enthusiast's spirits, the precipitation is rarely more than a thick mist—hardly enough to discourage the most tenacious triathlete.
Wedged an hour's drive each way between the mountains and the coast, Eugene may well be an unspoiled swim, bike and run Eden—it just needs a bit more tri buzz.
Love it if: You embrace a wealth of hydration options. Winsome wineries, potent coffee and handcrafted ales are everywhere.
Leave it if: You don't live and breathe the "Just Do It" creed. Eugene is Nike's hometown.