#6
Cambridge, Mass.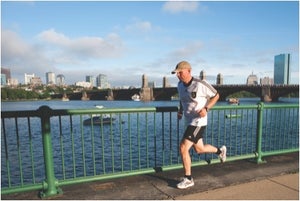 Neighboring the marathon's historical hub of Boston lies Cambridge, a hotbed of East Coast triathlon training. Runners pack the scenic Charles River multi-use path and enjoy Massachusetts' multiple rails-to-trails. Revered academic institutions Harvard and Massachusetts Institute of Technology host competitive Masters swim programs, or one can transcend society's scurry with a dip in the tranquil water of nearby Walden Pond. Cambridge is an extraordinarily bike-friendly city, but if you don't want to battle traffic, pack up and drive to reach the solitude of open roads in nearby New Hampshire or Western Mass.
With clubs and coaches in abundance, and proximity to marquee races such as Rev3 Quassy and Rhode Island's Ironman 70.3, it's no wonder that Cambridge hosts the annual Multisport World Expo. The area is home to accomplished professionals Dede Greisbauer and Caitlin Snow—along with thousands of other Type-A triathletes ready to run and ride hard on your heels and wheels.
Median homes prices hover around $440,000, so Cambridge is not for the faint of budget. But the relatively low unemployment rate (nearly half the U.S. average) bodes well for those willing to give it the old college try.
Love it if: You exercise your brain as much as your body. You'll be right at home among the Ivy Leaguers.
Leave it if: You can't swim, bike or run without a steaming cup from Starbucks. Dunkin' Donuts reigns supreme as caffeine king in this region.