#5
Traverse City, Mich.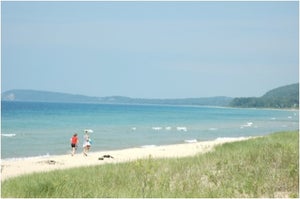 Perched between two peninsulas in Northwestern Michigan, Traverse City borders copious amounts of the clearest, cleanest open water a triathlete could hope for. Tagged one of America's best beach towns by AOL Travel, this endurance sports haven is aptly nicknamed the "Caribbean of the North."
But Traverse City's tri sport charms begin well before the water's edge. Cyclists— both mountain and road—are treated to a variety of terrain, with choice views spanning multiple bays, bucolic farmland and rolling vineyards. Runners can course through the area's TART trail system—estimated to span more than 55 miles. Xterra pros Josiah and Yaro Middaugh hail from Traverse City and base their Middaugh Bros. Triathlon Camp here, introducing eager athletes to the triathlon-rich resources of their hometown.
Traverse City also teems with endurance events including a handful of local triathlons, such as the Bayshore Marathon and the legendary Iceman Cometh Challenge bike race. When winter blankets the area in white, it's best to buck up like a local and strap on snowshoes or Nordic skis.
Love it if: You have a lip-smacking love for antioxidant-rich blueberries. Michigan leads the nation in production of this luscious fruit.
Leave it if: You can't take your job with you. Traverse City's 12.1 percent unemployment rate leapfrogs the 10.2 percent national average.