#3
Santa Cruz, Calif.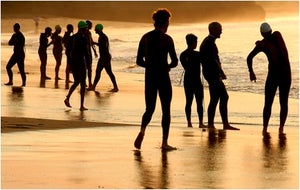 Bookended by The Forest of Nisene Marks and Wilder Ranch State Parks, and best known for its surfing heritage,Santa Cruz is a trail runner and mountain biker's dream come true. The road rides are equally magnificent so it's no surprise that employees from several nearby cycling industry manufacturers live in Santa Cruz. Likewise, two-time triathlon Olympic medalist Bevan Docherty discovered this pristine training ground a year ago and has never looked back. "I left Boulder in search of an even more perfect training spot," says Docherty. "I wasn't sure I'd find it—until I discovered Santa Cruz."
The club scene—offering both the Santa Cruz Triathlon Association and the Santa Cruz Track Club—provides plenty of hard-core company, and you'll gain the home turf advantage in stellar races such as the Santa Cruz Triathlon and the Big Kahuna long-course event.
With a cost of living 46.7 percent above the national average, Santa Cruz's price tag will certainly be too steep for some. But, if you're willing to sacrifice here and there, this coastal paradise will reward you with idyllic year-round training, a surf-culture casual atmosphere and ocean access worth every penny you pinch.
Love it if: You want world-class competition but the big names in Boulder and San Diego are a tad too intimidating.
Leave it if: The occasional shark sighting converts you to duathlon.