#10
Athens, Ga.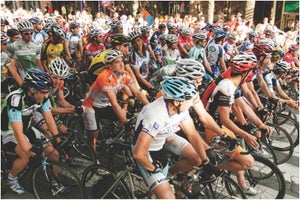 Great bike towns make great tri towns, and Athens certainly passes cycling muster.
Home to the renowned Twilight Criterium pro cycling event, Athens is supportive of both its traditional and underground bike cultures. The growing Classic City Tri Club, with several Ironman-accomplished members, is evidence that more and more Athenians are embracing multisport. For beginners wanting to test the triathlon waters, coaches from WoW! Boot Camp lead the way with their fun-filled holistic approach. Swimmers with ties to the University of Georgia benefit from the 50-meter pool at the Gabrielsen Natatorium, while others can access the local YMCA. The State Botanical Gardens offer shady trails where runners can escape the Georgia heat and also enjoy an educational experience in this living laboratory.
Ironman Louisville is a day trip away from Athens, and only a two-hour drive east takes you to Ironman 70.3 Augusta. Or you can also head west to catch the nearby Aflac Iron Girl Atlanta and visit triathlon retailer All3sports' flagship store, where you're sure to cure your consumer cravings.
Love it if: You successfully balance your three-sport obsession with a family foundation. You'll love Athens' safe, small town feel.
Leave it if: The terms "New Wave" and "alternative rock" are turn-offs. The B-52's, R.E.M. and Widespread Panic are examples of local bands made good from this modern music hub.