Our picks for best non-traditional places for triathletes to live.
Written by: Holly Bennett
Straightaway, erase cities such as Boulder and San Diego from your mind. Sure, these cities rock hands-down as places to live, work and train, but open your Oakley-wrapped eyes a bit further and you'll find a wealth of alternate towns and cities that serve up ample swim, bike and run appeal as well.
#1
Lawrence, Kan.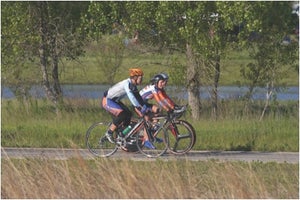 Click the heels of your ruby red bike shoes three times and you just might end up in Lawrence, Kan., triathlon's best kept secret and our pick for 2010's Top Tri Town. As the U.S. home base to Aussie pro Pip Taylor, and host of Ironman Kansas 70.3, Lawrence is as active as it gets. Just ask Don "Red Dog" Gardner, who leads twice daily year-round boot camp-style workouts, free to the thousands who participate in the community. Lawrence is also a fervently bike-friendly city, anchored by historic downtown retailer Sunflower Outdoor & Bike Shop, host to the annual Tour of Lawrence and boasting some of the nation's most considerate motorists on the area's constantly rolling rides.
There's no lack of swim and run opportunities in Lawrence, either. Athletes train on the 10-mile Lawrence Riverfront Trail and adjoining single-tracks. "The Levee," as it is known, "is the best maintained and most amazing surface I've ever run on," says Taylor. Multiple city pools (including two 50-meter facilities) support the swim crowd, and the enviably low cost of living in Kansas equates to a $20 monthly all-access pool pass.
For Taylor, who moonlights as a nutritionist, great food is a must have, and Lawrence's vibrant downtown restaurant scene does not disappoint. The Community Mercantile, or The Merc as it's known to locals, is a much-revered co-op natural food grocery, and weekly farmers' markets keep local pantries stocked with the freshest of seasonal produce.
Love it if: You're all about the neighborly, down-home vibe in a city rich with recreation, arts and culture.
Leave it if: You thrive on a totally tri geek-filled social scene. Aside from Lawrence's Rock Chalk Triathlon and Multisport Club, triathlete-specific gatherings are notably absent. Also, long winters can hamper a triathlete who loves training in the great outdoors.