This satisfying soup is easy to prepare and perfect for the fall and winter. You can vary the recipe according to what you have in your freezer or fridge. It's always sure to warm you inside and out.

Recipe by: Adam Kelinson
Ingredients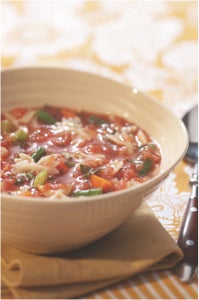 1 tablespoon olive oil
1 medium onion, chopped
1 large carrot, chopped
2 stalks celery, chopped
1 medium turnip, chopped
2 cloves garlic, chopped
1 large can whole peeled tomatoes
sea salt
2 cups chicken or vegetable stock (or water)
3 cups assorted fresh or frozen vegetables (such as corn, peas, green beans, broccoli, cauliflower)
1 tablespoon chopped fresh oregano (or 1 teaspoon dried)
1 tablespoon chopped fresh thyme (or 1 teaspoon dried)
1 tablespoon chopped fresh parsley
2 cups toasted buckwheat groats or other leftover grain or pasta, cooked
Preparation
Heat olive oil in medium-size Dutch oven or large pot. Sauté chopped onion, carrot, celery, and turnip for two to three minutes. Add garlic and sauté one minute or until fragrant. Pour liquid from can of tomatoes into the pot, temporarily reserving the tomatoes. Pour the tomatoes into a bowl and crush them with your hands, then add to the pot. Season liberally with salt and adjust to taste.
Add stock to pot and bring to a simmer. Add the remaining vegetables, herbs and grain. Cook until vegetables are tender; time will vary depending upon the vegetables you have used.
Nutrition Information:
Serves 4
Serving Size: 440g
Amount per Serving
Calories: 298
Calories From Fat: 75
% Daily Value
Total Fat: 8g 13%
Sat Fat: 1g 6%
Trans Fat: 0g
Cholesterol: 0mg
Sodium: 242mg 10%
Carbohydrates: 52g 17%
Dietary Fiber: 12g 49%
Sugars: 5g
Protein: 10g
Vitamin A: 267%
Vitamin C: 62%
Calcium: 12%
Iron: 21%
Adam Kelinson is a professional chef and the founder of Organic Performance, a nutrition consulting company in New York. Kelinson is an Ironman triathlete and has written on diet and nutrition for Inside Triathlon, TrailRunner and many nutrition websites. For more information, please visit Organicperformance.com. His book, The Athlete's Plate, is available in bookstores, tri shops and online at Velopress.com.