Eneko Llanos and Julie Dibens, last year's XTERRA World Champions, did not go home empty handed this year. Each won the Hawaiian Airlines Pro Double award for their performances at the Ironman World Championship and the XTERRA World Championship. Dibens will take it one step further when she heads to Clearwater, Florida next month in attempt to defend her Ironman 70.3 World Championship.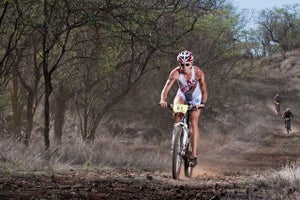 Eneko Llanos from Spain won the men's pro Hawaiian Airlines Double award for the 5th consecutive year. Llanos placed 7th at the Ironman World Championship in 8:22:02, and 6th at XTERRA Worlds for a combined time of 11:02:46, his fastest combined total time in the last five years. Julie Dibens from Bath, England won the women's pro "Double" with a 3rd place finish in Kona, and a 2nd place in Maui for a combined 12:09:36.
In the amateur double competition Thomas Vonach had the best combined times with a 12:24:35, while Amber Monforte won the women's amateur title in a combined 14:08:52.
The Hawaiian Airlines "Double" purse is awarded to the pro and amateur men and women with the fastest combined time at Ironman Hawaii World Championship in Kona, Hawaii and the XTERRA World Championship in Makena, Maui. The two events are held just two weeks apart. Hawaiian Airlines pays $2,500 to both the top man and woman professionals, while the amateur winners receive round trip tickets for two from the U.S. west coast to Hawaii.