Seven-time Tour De France winner Lance Armstrong will be turning to triathlon and racing in the 2011 Ironman World Championship in Kona, Hawaii, according to his long-time coach Chris Carmichael. It is unclear at this point where or how Armstrong plans to qualify for the world championship race.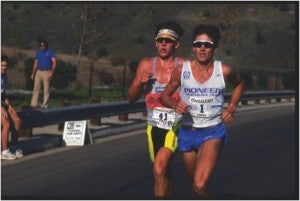 Seven-time Tour de France winner Lance Armstrong has set himself a new challenge with plans to compete for his first time in the grueling Ironman World Championships in 2011.
In a video posted on EveryManTri.com, his coach Chris Carmichael said: "2011, [Lance Armstrong] will be here. He's super psyched and I think he wants to do more than win his age group."
A swimmer as a child and promising national-level triathlete in his late teens, Armstrong has also run in marathons, so he has the background to be competitive in Hawaii. The demanding event sees participants swim 3.8 km before hopping onto a bike for a 180km ride and then on foot for a marathon 42.4km run. According to the Ironman website each athlete will train for 7 months for up to 22 hours per week in preparation.
Check back to Triathlete.com as we continue to follow this developing story.