The Ironman World Championship is only one week away and Kona is transforming to prepare for triathlon's biggest race of the year.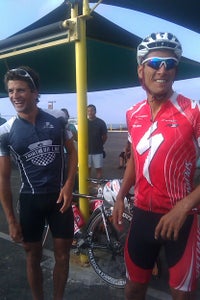 Despite the fact that the event is still seven days away, age groupers and professionals have taken over this quiet town on the Big Island. As is tradition during race week, Dig Me Beach at the Kona Pier was bustling at 7 a.m. sharp with athletes anxious to get a feel for the water's conditions.
At the pier, the crew from Triathlete.com caught up with 2007 Ironman World Champion Chris McCormack and 2008 Ironman 70.3 World Champion Terenzo Bozzone. The pair, who have been known to train together on the island and off, set out for a bike ride northwest up Queen Kaahumana Highway. We followed along, capturing video and images along the way.
From there, we headed over to check out the action at the Natural Energy Lab, just south of the Kailua-Kona Airport. The Energy Lab is believed by many to be the most difficult part of the 140.6-mile course. Because of that, many take it on in the days leading up to the race to ensure they have the physical and mental toughness to battle the stretch of road come race day. While visiting the Energy Lab we came across several top professionals, including Australia's Mirinda Carfrae and Great Britain's Leanda Cave.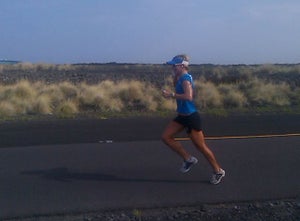 Conditions in Kona have been somewhat diverse over the past 24 hours. Although yesterday afternoon and evening featured cooler conditions with scattered rain storms, today's forecast has featured both rising temperatures and humidity.
Check back later today for images and video from the exciting day on the Big Island.
Click here for more coverage of the Ironman World Championship.