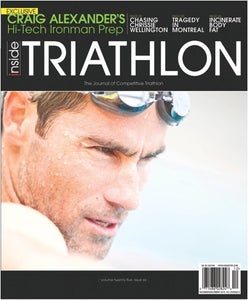 Pick up a copy of the November/December issue of Inside Triathlon, which features an exclusive look into two-time Ironman world champion Craig Alexander's tech preparation for the heat of the Hawaii Ironman, written by Triathlete magazine's senior tech editor Aaron Hersh.
And writer Adrianne Kroepsch delves into the complex relationship between Mirinda Carfrae and Julie Dibens, considered by many to be Chrissie Wellington's top competitors at the Ironman World Championship this year. Senior editor Courtney Baird delves into the circumstances surrounding a gruesome cycling accident that took the lives of three triathletes in Quebec. And retired pro Torbjorn Sindballe walks readers through the science of using fat stores for energy.
This issue also includes Sam Warriner's step up from ITU to long-course triathlon, a Mizuno running shirt that can keep you warm in the winter and Courtenay Brown's take on World Triathlon Corporation's anti-doping program.
See also: