At the first-of-its-kind all-inclusive GOTRIbal Conference and Retreat in San Diego, the organization, which was "created to empower and connect women through the journey of endurance sport," brought together women from all over the country to connect, learn from each other and to share their love of swimming, biking and running.

Written by: Bethany Leach Mavis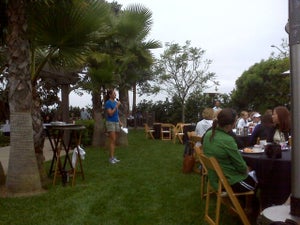 According to Tanya Maslach, GOTRIbal's founder, the event drew almost 100 attendees to the Hyatt Regency Mission Bay Resort and Spa. The day was jam-packed with activities such as an expo, swim and run clinics, bike fitting and educational seminars dedicated to topics such as reaching an ideal racing weight and utilizing Active Release Technique in triathlon training.
The conference is an historic event because it's the first national women's endurance event of its kind, says Maslach. Maslach founded the organization because she felt there was a gap in the global scene of endurance sports—there was a lack of humility, inclusivity and service in the endurance sports community, and there was no one global place to connect. Now GOTRIbal has 50 "tribes" in several countries and across the nation.
GOTRIbal is geared toward not just teaching and connecting female athletes, but it's also dedicated to inspiring women to achieve any goal—both inside and outside the world of endurance sports. Along those lines, one session featured Paralympic swimmer Melanie Benn, who lost her limbs to bacterial meningitis, and Amber England, who lost 100 pounds in 14 months and now started her own wellness company called Sweat OKC in Oklahoma City. Both women shared their stories and spoke about the difficulty and reward of reaching personal goals.
The conference also featured an athlete panel that included professional Xterra triathlete Lesley Paterson during the lunch break, as well as an all-day triathlon expo.
The event drew women of all ages and abilities. Amanda Marples, from San Diego, is a runner and heard about the event from a running buddy. She attended the conference because she thinks she might want to step up to triathlon. "I thought this would be a good first step," she says.
Some women came not just to learn but also to connect with other women. "I like the social aspect much more than the racing," says Renee Defeo Kinney, a triathlete from the Phoenix area who has completed in several sprint-distance triathlons so far.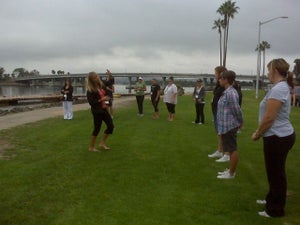 The conference also drew some long-distance triathletes, such as Marie Hughes from Fremont, Calif., who's ramping up for Ironman Arizona after completing her first half-iron race this year at the Avia Wildflower Triathlon. In her second triathlon season, she was surprised to find how few women were in the sport and has made it her personal mission to get more women to participate in triathlon. So when Hughes discovered GOTRIbal through three-time Ironman world champion Chrissie Wellington's blog, she decided to attend the conference to connect with the other women.
Her favorite aspect of the conference is "talking to the other women," she says. "I have a good community back home with my tri club and lots of support, but you can never get enough of that."