The first of what organizers hope will be many races in the Super Sprint Triathlon Grand Prix series is set for this Sunday, Oct. 31 in Oceanside, Calif.
The race will feature a unique race format. Athletes will complete a 300m swim, a five-mile bike and a 1.5-mile run, and then repeat the full course. The format will no doubt result in an all-out sprint for the pros. It also means athletes will have to navigate their way through five transitions. Because every second counts, athletes will jump into the frigid Pacific Ocean without wetsuits. The fast-paced nature of the event will favor ITU athletes like Jarrod Shoemaker, Cameron Dye and Sara McLarty, but the fact that none of these athletes are used to this format means that anyone could take the race. Recently crowned Ironman World Champion Chris McCormack used to compete in races like this early in his career in Australia. Click here to see McCormack and other famous faces in action in a grand prix event.
Both male and female professionals will be competing for their share of the $10,000 prize purse.
The women's race will kick off the day at 11 a.m. PST, with the men following at 1 p.m. PST. The race starts on the beach in Oceanside and the full course can be seen from the strand or the pier over pass.
See the professional start lists below:
Men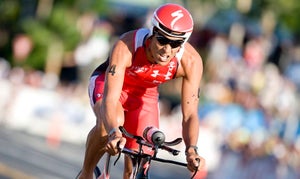 1. Chris McCormack (AUS)
2. Matt Reed (USA)
3. Jarrod Shoemaker (USA)
4. Cameron Dye (USA)
5. Filip Ospaly (CZE)
6. Paul Amey (GBR)
7. Richie Cunningham (AUS)
8. Ben Collins (USA)
9. Steve Sexton (USA)
10. Brian Fleischmann (USA)
11. Greg Remaly (USA)
12. Avi Gagel (USA)
13. Brendan Sexton (AUS)
14. Tommy Zafares (USA)
15. Dustin McLarty (USA)
Women
1. Sara McLarty (USA)
2. Alicia Kaye (USA)
3. Michellie Jones (AUS)
4. Tenille Hoogland (CAN)
5. Nicole Kelleher (USA)
6. Kate Major (AUS)
7. Jenny Fletcher (CAN)
8. Charlotte McShane (AUS)
9. Misato Takagi (JAP)
10. Heather Jackson (USA)
11. Hayley Peirsol (USA)
Check back to Triathlete.com for complete coverage of the race.