Triathlete Chrissie Wellington posted on her blog today: "I knew something wasn't quite right."
Three-time Ironman World Champion Chrissie Wellington broke her silence today about her decision not to race at the 2010 Ironman World Championship in Kona, Hawaii. Everyone in the triathlon industry, including participants, spectators, sponsors and media, was shocked to hear the announcement at 6 a.m. HST that the reigning champion would not be competing in the 2010 version of the race that she has dominated year after year.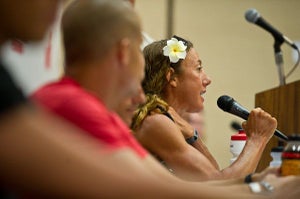 Wellington made the comments on her website, Chrissiewellington.org. She starts out by congratulating champion Mirinda Carfrae on her performance and then goes on to explain her decision:
"I'd like to quickly elaborate on how I felt leading into the race and why I took the decision that I did," Wellington wrote. "I started feeling slightly ill on Friday lunchtime, with a sore head and throat. I did my usual three short sessions that day but, on the run particularly, I knew something wasn't quite right. My legs were like jelly and I was sweating much more than usual. My tired head hit the pillow at 7pm and I woke up several times during the night literally drenched in sweat, my head pounding and feeling like my throat was closing. I got up at 3.45am, had a shower, and went through my pre race routine hoping that I would feel better. But nothing improved. I knew I had to make one of the toughest decisions of my life."
She also discusses how she made the decision:
"I sought counsel from those closest to me, but mostly tried to listen to my body, and what it was telling me,
stated Wellington. "I said to myself, if I woke up on an ordinary day feeling like this would I train? The honest answer was no. At around 5am the decision was made. There was no going back."
Wellington goes on to explain that she recognizes the sport has ups and downs that go along with it. She closes out the blog post by stating: "The journey to Kona 2011 begins here and the fire in my belly is already burning."
Click here to read the complete blog post by Wellington.
Related articles: More Details About Wellington's Decision; Wellington Drops Out Of 2010 Ironman World Championship; More Ironman News
Complete coverage of the 2010 Ford Ironman World Championship.