American Ironman TJ Tollakson joined Craig Alexander for his mid-summer Kona training camp this year, and Aaron Hersh was along to write a story for Inside Triathlon about Alexander's unique race preparation strategy. While on site, Hersh got an advance look at the one-of-a-kind bike Tollakson will race this weekend in Kona.
Written by: Aaron Hersh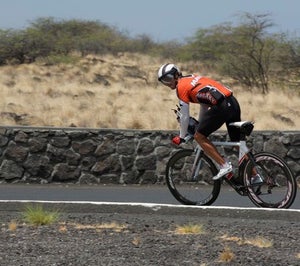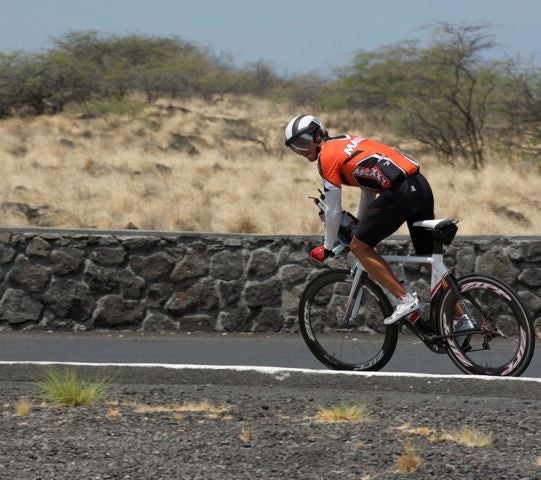 Before becoming a full-time pro triathlete, Tollakson was an engineer, and he has applied the engineer's mentality to his equipment selection to create a completely unique aerobar setup.
His Parlee was equipped with Zipp 404 front / 808 rear wheels, SRAM Red components, a SRAM SRM power meter, Look Keo Blade pedals, a Fi'zi:k Arione Tri 2 saddle, a previous generation Ultegra 6500 front brake caliper, Profile Design Cobrawing and T2 Carbon aerobars—and a pair of crotch-protector cups.
He is famous for innovatively tweaking his bike to squeeze every bit of performance out of his rig, and his unique aerobar setup exemplifies his willingness to experiment with far-out equipment. Tollakson went to the A2 Wind Tunnel in Mooresville, N.C., to test various aerobar positions, and he found several positions that reduced his drag. In the end, Tollakson selected the position with the best combination of aerodynamic efficiency and comfort. The cups aren't for reproductive safety; they support Tollakson's elbows so he can relax in this unconventional position.
"I found a couple positions that were actually a little more aero, but they were much more difficult to hold over four-and-a-half hours," Tollakson says. "The hands-up position allowed me to do a couple things. I was actually able to put out a little more power at a lower heart rate because my hips were open a little more. It seemed to be the best combination for me. Some of the options that had a lower drag coefficient were much more difficult to hold. If I was racing the Tour de France or 40K [the Olympic distance] it would have been different, but not over the Ironman."
Tollakson has refined his hydration equipment since the training camp earlier this summer. He added a Profile Design RMC rear-mounted hydration system to carry two additional bottles and has added straws to the bottles on the front of his bike so he doesn't have to reach for those bottles because "a large part of racing in Kona is about not having to take your hands off the bars [because of the strong crosswinds]."
Tollakson will be racing on a Zipp 404 front / 808 rear Carbon Clincher wheelset. These wheels are built around Zipp's Firecrest rim shape. When asked why he chooses to race on clincher tires rather than tubulars, Tollakson says he has "always been a clincher guy. I've always preferred clincher tires. These guys at Zipp have really stepped the game up and leveled the playing field between clincher and tubular wheels." His wheels will be dressed with Maxxis Xenith Equipe Legere, 23c tires, which weigh in at 150 grams.
Tollakson's Parlee TT is worth well beyond $10,000, but he decided to use one component that can be had very cheaply. He used a Shimano Ultegra 6500 brake caliper—which is almost 10 years old—instead of the lighter SRAM Red front brake caliper because, "it has a narrower profile. I contemplated switching for a lighter Red caliper, but because the caliper is exposed I wanted to err on the side of aerodynamics rather than weight."
Tollakson is known for his bike strength and he monitors his power output with his SRAM SRM power meter and SRM PowerControl 7 computer. His numbers will be transmitted live during the bike to SRM.de for everyone to see in real time.
The strong American still has one more equipment decision to make before the race on October 9. He will wear either the Specialized TT2 aerohelmet or the rounded helmet that he used during the training camp. Both have been custom painted with the logo of his swim and race clothing sponsor Tyr and an American flag. Tollakson says the rounded helmet, "does well in the crosswind and has a full-face shield, which makes it aero but heats it up faster. The Specialized does better in a straight head wind but struggles a little in the crosswinds in Hawaii [because of its long tail.]