SRAM S80 wheelset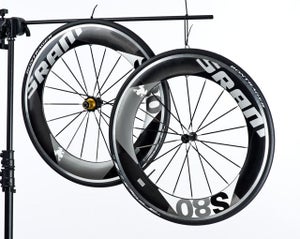 Ride Quality: 90/140.6 The S80s weigh more than some training wheels and have a standard, narrow clincher rim so they so they aren't a blast to ride.
Usability: 130/140.6 The narrow clincher rim makes swapping wheels and changing a flat easy. The deep front wheel catches air like any other 82mm deep rim.
Value: 120/140.6 Moderately priced with the rim shape that made the Zipp 808 an aerodynamic marvel.
Aero Profile: These SRAM wheels are built on Zipp-designed rims. They have the same shape as the previous generation Zipp 808 clinchers that sold for more than $2,300. Lower grade hubs, cheaper spokes and no dimples are the differences between the 808s and the S80s, but they still have the all-important toroidal rim shape. The S80s are not light but once they are up to speed, they keep rolling because of the aero rim shape. They do not, however, have a wide brake track to take full advantage of the toroidal shape like the pricier wheels from Zipp and Hed. They provide most of the performance of the most expensive race wheels at a sensible, although certainly not cheap, price.