Easton EC90 TT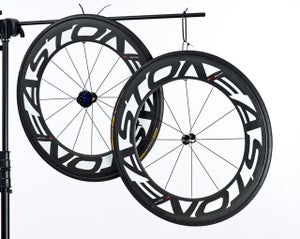 Ride Quality: 135/140.6 Wide rim clinchers are great but nothing rides as well as a tubular tire. Light yet stiff rims accelerate and corner like a motorcycle. Deep from wiggles in crosswinds.
Usability: 100/140.6 Tubulars are a pain to install and expensive to replace.
Value: 115/140.6 They are light and stiff but lack the formerly patented aerodynamic toroidal rim that separates Zipp and Hed wheels from the rest.
Aero Profile: The EC90 TTs have a hurdle to overcome to compete against the incumbent industry-leading race wheels. Although the EC90s have a deep rim, the wheels are built with a rim shape that is inferior to the category-crushing options from Zipp and Hed. The rim of the EC90 TT is straight-walled rather than toroidal, but that doesn't mean that the EC90 TTs aren't great wheels. Easton's mastery of carbon construction is evident when jamming these wheels into a high-speed corner or accelerating away from T1. The rim sidewalls are paper thin but the wheels are still stiffer than many of the bulkier race wheels on the market. The snappy and responsive ride distinguishes the EC90 TTs from many other tri race wheels.
Click on the next button below to read a review of the SRAM S80 wheelset.