Hed Jet 9 and Jet disc clincher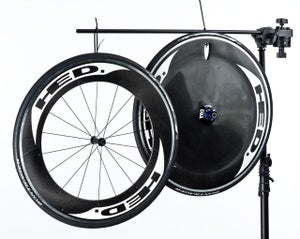 Ride quality: 120/140.6 Aluminum brake track grips perfectly, and the spoked disc corners better than any rival, but the deep front rim can feel twitchy in the wind and the Jet wheels' relatively stout weight makes them slow to accelerate.
Usability: 130/140.6 Clincher tires. Aluminum brake track. Solid cornering characteristics. The only issue is spreading the brake calipers to accommodate the wide rim and handling the front wheel in a crosswind.
Value: 130/140.6 Best aero profile for the price in the industry, but the flexible fairings give the wheels a cheap feel.
Aero Profile: Hed Jet wheels are simply standard aluminum rim wheels covered with carbon fairings. The fairing is flexible and feels a bit chintzy. Despite their low production value, the Jet 9 and Jet disc are near the pinnacle of wheel aerodynamics. The key to their aerodynamic efficiency is the smooth integration between the rim and the tire. Its 23mm wide brake track, as opposed to a conventional 19mm wide track, turns the wheel and tire combination into one smooth toroidal unit.
Until just three years ago, even the most aerodynamic wheels in the world had an obvious design flaw. The rims themselves had an efficient toroidal profile but, with a tire on, the wheels became a figure eight because they had a narrow brake track that formed a waist between the wide tire and wide rim. Mad scientist Steve Hed was the first to solve this problem by building an aero wheel with a wide brake track that smoothly transitions from rim to tire and makes the entire system, rather than just the rim, fully toroidal.
Not only is the Jet disc aerodynamic, but it rides better than any other disc because of its construction. Foam core discs transmit more road vibration than spoked wheels. This make the ride feel harsh and compromises cornering because the wheel bounces off the pebbles that make up an asphalt road. The Jet disc rides like a spoked wheel because it is a spoked wheel. It has sheets of carbon covering the spokes to give it the aerodynamic properties of a disc.
Click on the next button below to read a review of the Easton EC90 TT.