Zipp 404 Carbon Clincher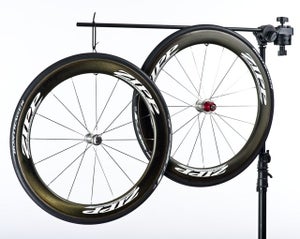 Ride quality: 130/140.6 It corners like a tubular but the carbon brake track isn't as grippy as an aluminum rim.
Usability: 125/140.6. The clincher tires make changing a flat simple, but the wide rim requires a brake adjustment when going from a standard training wheel to these.
Value: 128/140.6 Cutting edge aero profile and carbon clincher rims make it a phenomenal piece of wheel technology, but it is still really pricey.
Aero profile: Truly the next generation.
Despite the name, the biggest difference between the Zipp 404 Carbon Clinchers and competitors' race wheels is not the fact that they are carbon clinchers. Other manufacturers have, in fact, been successfully producing carbon clinchers for a couple of years. The 404 CCs are a milestone in race wheel design because of their evolutionary rim shape and unmatched combination of speed, weight and usability. Like the Hed Jet's, the 404 CCs have an ultra-wide brake track to improve wheel aerodynamics, but Zipp has taken the toroidal rim shape another step forward with its new Firecrest rim profile.
The rim of the 404 CCs is not only incredibly aerodynamic, but the wide brake track also creates a silky ride experience that can only be matched by tubular tires and other wide clinchers. Widening the brake track increases the amount of air held in the tire and lets it absorb little bumps in the road that would normally skip the rider off the pavement. This buttery ride quality, combined with the incredibly light rims, make the 404 CCs a thrill on the road. Even with the carbon rim they are still heavier than comparable tubular wheels, but the 404 CCs are more nimble and eager to accelerate than any aero clincher wheel I've ever ridden.
Click on the next button below to read a review of the Hed Jet 9 and Jet disc clincher.