A comprehensive gear review of a few triathlon race wheels available on the market.
Written by: Aaron Hersh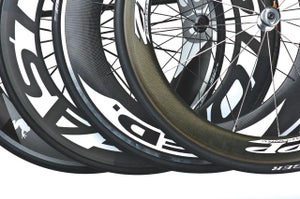 Race wheels are not the most cost-efficient way to improve your bike split, but they may be the sexiest. But those deep rims aren't just for looks: The rim is the most critical component of an aerodynamic wheel. Triathlon race wheels reduce wind drag by converting a standard tire and rim into an aerodynamically efficient shape. Designing race wheels with deep rims is the most common way manufacturers reduce drag, but the rim's shape is just as important as its depth. The first aero wheels utilized narrow V-shaped rims but aerodynamicists eventually figured out that certain wide and deep rims actually create less drag than narrower alternatives.
Zipp and Hed have dominated the race wheel market for many years because they shared a patent on the most aerodynamic rim shape—the toroidal rim. This bulged rim shape creates less drag than a deep-V rim even when the rider is in a gentle crosswind. The patent on this valuable rim shape just expired, leaving the race wheel market open to serious new competitors. No one has yet grabbed this opportunity but Zipp has already designed and patented a new shape that they assert is even more aerodynamic than a toroidal rim.
Click on the next button below to read a review of the Zipp 404 Carbon Clincher.