The 2010 triathlon season has been dominated by Team Trek/K-Swiss athletes and three of the team's best will be representing the team in the Ironman World Championship this weekend.
Written by: Aaron Hersh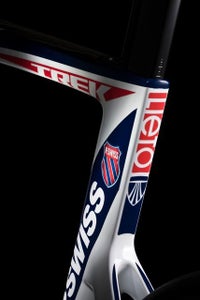 The team is sending Chris Lieto, Julie Dibens and Fraser Cartmell to the Big Island, and they will be aboard Trek Speed Concept 9-Series bikes with SRAM Red components, SRAM R2C shifters, Bontrager Aeolus 9.5 clincher race wheels and Bontrager R4 Aero tires. The bikes are functionally identical, but each one is custom painted to represent something important to the individual athletes.
Chris Lieto
The California native's Speed Concept is painted red, white and blue for the good old USA. The names checkered on his Aeolus race wheels are of the 141 children his charity, MoreThanSport.org, is helping in Kenya. The number represents the miles in an Ironman, which is 140.6, but they rounded up to 141. The charity helps provide things such as food, clean water, healthcare and education. You can donate to Lieto's cause by sponsoring a mile of his Ironman race or by sponsoring a child directly.
The names in red, Karis, Kaiden and Kayah, are his wife and children.
Julie Dibens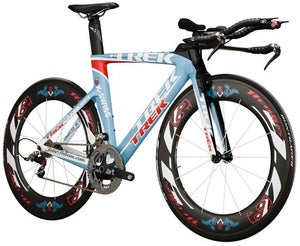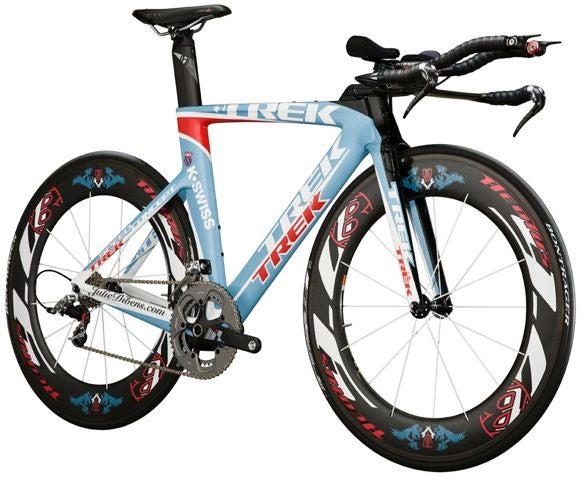 The defending 70.3 world champion is the only woman on the planet to have beaten Chrissie Wellington in a long distance triathlon. And she has done it twice. Those races were, however, at the half-iron distance, and Kona will be the Brit's first shot at the full thing. She is an incredible talent and has proven to be nearly unstoppable over 70.3 miles but is an unknown quantity at the IM distance. She will be riding a baby blue and red Speed Concept with a personalized emblem on the race wheels.
Dibens explains that the crest refers to her diverse skills as a triathlete. "The theme was from the saying 'not just a one trick pony.' We were trying to play off the idea that I don't just do one type or discipline of triathlon … I mix it up with Xterra, 70.3, Olympic and now Ironman distance, too. Not many girls do."
Fraser Cartmell
The Scot will be riding this brilliant blue Speed Concept next weekend.
The notable absence from the Team Trek / K-Swiss lineup is the defending men's 70.3 world champion, Michael Raelert. Raelert annihilated every 70.3 field he faced this summer but has decided to wait one more year before contesting Kona. He is known as one of the fastest runners in the sport but bolstered his bike strength this past winter and is now a complete triathlete. He will be a serious threat to win in his first attempt at the iron distance. Look out next year.