Just getting to the starting line of a triathlon is costly. The entry fees, gym membership, bike gear, running shoes and even the basic supplies are expensive while top-of-the-line gear can cost as much as a car. But there are ways to save time on the race course without maxing out the credit card.
Convert a road bike for triathlon
3T Palladio Pro, Thenew3t.com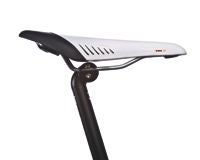 It's not the airfoil tubes or integrated aerobars that make tri bikes faster than road bikes. They're speedier because they move the rider forward, which puts the rider in a comfortable and aerodynamic position. The Palladio was designed as a rear offset post, but the saddle clamp mechanism allows it to flip around and become a forward-position post. This subtle geometric adjustment makes a road bike a little more like a tri bike. Riding in a tri position puts a lot of weight on the nose of the saddle, and the Palladio's indexed clamp system prevents the saddle from rotating down.
Profile T1 aerobars, Profile-design.com
Riding a road bike in the aero position is uncomfortable. If you have ever slapped a pair of aerobars onto a road bike you know just how difficult it is to find a relaxed aero position. The Profile Design T1 makes it easier to find your comfort zone than most clip-on aerobars because of its wide range of adjustability. The elbow pads and extensions can be raised and drawn back toward the rider, which masks many of the positional problems caused by getting aero on a road bike. The gradually upswept extensions are easy on the wrists while still providing a firm grip surface for a big effort. The T1 aerobars are not only ideally adjustable for use on a road bike, but they are a bargain at $109.
Deck out your tri bike for cheap
Wheelbuilder.com Aerojacket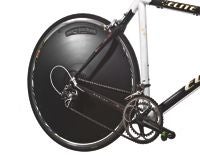 Disc wheels are fast because they present a solid surface that air can smoothly flow over. They do not need special foam cores or carbon sidewalls to be aerodynamic. The Wheelbuilder.com Aerojacket allows an everyday training wheel to achieve the aerodynamic characteristics of an expensive disc by covering the spokes with two sheets of plastic. Although it is hard to believe that such a simple product can achieve the aerodynamic characteristics of a high tech disc, similar covers have been validated in the wind tunnel so, at $99, the Aerojacket is arguably the savviest speed-per-dollar bike upgrade on the market.
Rudy Project Wingspan, Rudyproject.com
Aero helmets reduce drag by redirecting the air coming off the rider's head onto her back. Since every rider is shaped differently, there is no ideal aero helmet that will work for everyone. Most current aero helmets have long-stretching tails and the Wingspan is the first option with a radically different tail shape. Designed by aerodynamics stalwart John Cobb, it is sure to be a fast lid for riders who don't jibe well with long-tail aero helmets.
XLab Torpedo Mount, Xlab-usa.com
The Torpedo Mount is a flat piece of carbon that spans the aerobar extensions and supports a bottle cage. Hiding a water bottle between the arms is not only a convenient location but it also has no aerodynamic penalty. The 25-gram Torpedo is one of the lightest and sturdiest between-the-bar bottle mounts because of its rigid carbon plate and the silicone-coated Velcro straps that attach it to the aerobars.