Triathlete magazine has announced the relaunch of the publication. The new look will first appear in the November issue of the magazine. Subscribers will receive the issue any day and it will be available on newsstands starting Oct. 5. Editorial Director T.J. Murphy provides more insight on the exciting announcement below.

In the last decade alone, triathlon participation numbers in the United States have skyrocketed. Membership in USA Triathlon has increased 700%, the number of events has tripled and the number of certified triathlon clubs has grown to over 800. In effect, triathlon has climbed into the mainstream of our country's health and fitness activities.
Triathlete magazine has been a part of the ultimate fitness lifestyle since it emerged in the early 1980s, providing insight for a young sport that was hungry for the best training, nutrition and gear information available. With the early years of participants focusing most of its attention on the longest and toughest triathlons in the world, like the Hawaii Ironman, triathletes earned an elite reputation. Triathlon, it was often thought, was reserved for super athletes.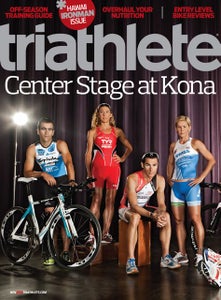 No longer. As the sport continues to explode, three out of every four American triathletes are training for and competing in short-distance events, accessible race distances that are open to all-comers and require a minimum amount of training. The doors of triathlon have swung open.
Triathlete magazine fully recognizes this transformation of the sport with a relaunch of the world's most trusted multisport title. The new Triathlete, with a first-class design, fresh direction and revitalized message of inclusion, will seek to celebrate the sport as the ultimate fitness lifestyle for anyone and everyone who wishes to join in. From expert advice on training, gear, technology and nutrition to inspirational features, profiles and humor, Triathlete will continue to grow a sport that has thrived for 30 years and has now caught the imagination and interest of the world.